Professional Measurement: Measure-It! Adhesive Rule Tape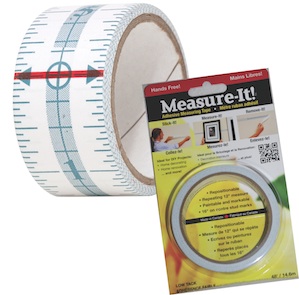 Measure-It! looks like a standard roll of tape, but upon close inspection, is a 12-inch ruler that repeats itself.
Measure-It! tape is paintable and markable and can be used on multiple surfaces including walls with curves and corners without leaving a sticky residue.
The tape can be repositioned and used again up to four times. Available in 32- and 48-foot rolls, Measure-It! is self-wound and has no liner to remove.
It is constructed of special paper and will not stretch, so measurements are accurate. Stick it, measure it, then remove it. Mark it using a pencil, ballpoint pen or markers. The tape can be read from either side, right or left. The inch markings are oversized and visible from a distance.
Use Measure-It! on a desk or workbench to size up projects, for accurate spacing between drill bit entry points and use to layout cut lines for woodworking and remodeling.
"It's also handy in DIY projects around the home, especially when you're working by yourself," said Rob Botten, President of Bronto Marketing Group. "Unlike conventional steel tape measures, which require both hands to operate, Measure-It! is hands-free. It makes projects like hanging pictures and blinds a breeze. There are literally hundreds of uses for Measure-It! around the home.
For painting and decorating, Measure-It! is a great layout tool and guide for painting crisp lines and patterns such as stripes. It is low tack meaning it will not damage walls or leave a sticky residue and can be repositioned several times if needed.
Measure-It! is handy for drilling templates, painting, tile layout, metal work, carpentry, arts and crafts and many more applications. Measure-It! is available in 32- (MI32bp, $4.99) and 48-foot (MI48bp, $5.99) rolls.