Mercer Abrasives premium high-speed gas saw wheels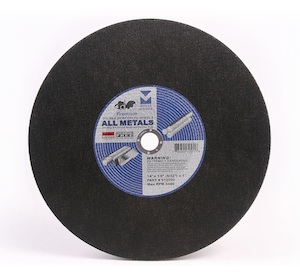 Mercer Abrasives is proud to announce the newest addition to its line of heat-treated Aluminum Oxide cutting and grinding wheels premium Cut-Off Wheels specifically designed for portable gas saws. Constructed with a proprietary formula, heat-treated Aluminum Oxide grain, these wheels are efficient in cutting all metals, including stainless steel.
These high performance wheels provide a cool, clean cut and are designed to withstand the toughest applications. You'll be cutting faster and will notice extended wheel life.
"Our customers asked and Mercer is proud to deliver," says Ryan Trimble, Product Manager. "Users desired long life, multi-material ability, and strength, so they'll be getting exactly that from this high performance wheel."
They are available in 12" and 14" sizes with 1" or 20mm arbors to fit all gas saws.
Mercer Abrasives, a Global Abrasives Company, is highly regarded in the professional trades and is known for manufacturing superior quality, long-lasting products at prices that represent value. A leader in the professional market for more than 50 years, Mercer offers a wide selection of products for industry professionals. Mercer takes Quality, Performance, Delivery, Service and Cost to a whole new level.
For additional information, please visit the company's website at www.mercerabrasives.com.