Metabo HPT 18V MultiVolt Cordless Heat Gun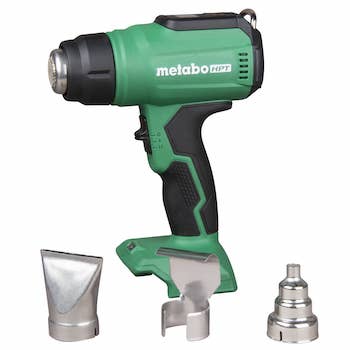 The Pro Preferred Brand of Pneumatic Nailers*, Metabo HPT announces the latest addition to its cordless system with the 18V MultiVolt Heat Gun (model RH18DAQ4).
Packed with features, this heat gun is part of the expanding MultiVolt System of 18V and 36V power tools from Metabo HPT. As an 18V bare tool, the user can decide to GO lighter by using an 18V battery or GO longer with the flexible 18V/36V MultiVolt battery to double the runtime per charge for more power on the go.
The LCD backlit display on top of this cordless heat gun delivers easy read out and adjustments of the selected temperature and fan setting as well as remaining battery charge. With temperature range settings from 86°F up to 1022°F, and with the additional versatility to make temperature adjustments in 18°F increments, there is a level of control to match any application.
The 2-stage air volume control (high & low slide switch) remembers the last temperature used on each setting for convenience. Additionally, the temperature can be displayed in Fahrenheit or Celsius and can be easily selected on the display screen.
The design of this cordless heat gun allows the tool to rest firmly and safely on its back (heat port up) so the user can have both hands free for work in applications like bending PVC pipe or soldering connections. Three types of nozzles (round, curved, flat) are provided as standard accessories.
A quick eject feature for the nozzle is activated by rotating the front collar, so the end user doesn't have to wear gloves to swap attachments out or wait for the heat gun to cool down.
An LED light is included for convenience when working in low light conditions.
Compact and lightweight at only 8.5" in length and weighing just 1.3 lbs, this cordless heat gun also has an ergonomic rubberized handle for an easy and comfortable hold. A hook is installed to hang or store out of the way, especially when the heat gun is still hot.
This cordless heat gun has the power and versatility to tackle a variety of applications with greater freedom of movement. Use it easily indoors or outdoors to bend PVC, soften adhesive, remove paint or caulking, de-bubble epoxy, remove vinyl decals, tighten shrink wrap, and even dry out drywall spackle for faster patchwork and paint projects. GO with the heat gun that won't let you down, delivering extraordinary heat and flexibility.
The RH18DAQ4 18V Cordless Heat Gun is backed by Metabo HPT's 1-year tool body warranty. MSRP $119.
For more information including the full line of Metabo HPT products and support, please contact 1-800-829-4752 or visit metabo-hpt.com.