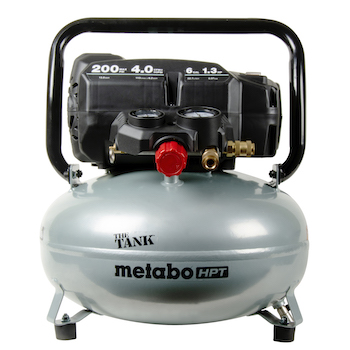 Metabo HPT announces The Tank - the industry's first 200 PSI High Capacity Pancake Compressor (model EC914S). With class leading PSI, this lightweight compressor packs 25% more pressure* into a smaller body.
It is engineered with the power to run a framing, roofing, or siding crew, and is versatile enough to run a team of five 18-Ga nailers at a time. The Tank offers serious professionals a next level compressor with ultimate versatility.
The Tank has the capacity and PSI to simultaneously run (2) framing nailers, siding nailers or roofing nailers at the same rate of production as a traditional jobsite compressor.
Finish crews can even run (3) 15-Ga or 16-Ga finish nailers or (5) 18-Ga brad nailers. With 4CFM @ 90PSI, The Tank delivers 30% more air flow**, making it easy to run multiple large body nailers at the same time with fast reloading.
The large capacity 6-gallon tank provides plenty of air. Productivity is maximized as The Tank can consistently drive nails flush without delay. The oil-free design delivers high durability with low maintenance- ready to plug and play right out of the box.
The Tank is 22% lighter than a traditional twin stack compressor. ** Weighing just 41 lbs., it is easy to move around the jobsite and carry up or downstairs. The solid steel, bolted on, "roll bar" handle makes it easy to carry, and protects against damage when in the back of the truck or tool trailer.