Mi-T-M Combination Units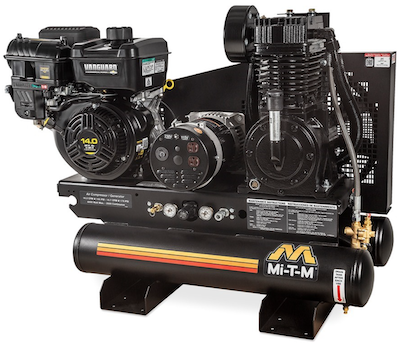 Mi-T-M Corporation recently introduced new air compressor/generator and air compressor/generator/welder combination equipment to their existing product lines. The new models are equipped with recently released 14HP Briggs and Stratton Vanguard engines.
Equipped with 3-in-1 controls and TransportGuard® shut-off oil and fuel protection, integrated cyclonic air filtration and advanced cold weather starting, the Vanguard engine features separate these new combination models from their counterparts.
Available in portable, stationary and base-mount styles, the new models produce 16.4 CFM at 90 PSI and feature a 4000 or 5000-watt generator. The welder combination units include a 170A arc welder.
All Mi-T-M combination units are ideal for heavy duty jobs and industrial equipment repairs in construction, mining, logging, oil and gas industries.
For more information, visit www.mitm.com or call (800) 553-9053.