Mi-T-M Rotary Screw Air Compressor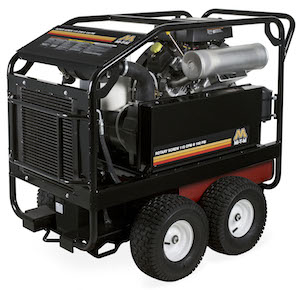 New to the market and the first in the industry to produce 115 CFM at 100 PSI, the powerful Mi-T-M Rotary Screw Portable Air Compressor is the machine of choice for construction and contractor businesses.
Built for optimum performance and endurance, the single stage gasoline rotary screw features a Poly Chain belt drive system, ball valve controlled 3⁄4-inch outlet and high oil temperature shutdown.
This engine and pump combination can produce 115 CFM at 100 PSI and includes a powder coated steel frame with roll cage, lifting hook, winch point, tie-down anchors and 15-inch pneumatic tires for effortless transport. A version with model AX-0076 skid feet is also available.
Perfect for a variety of construction applications, this mighty machine can move through construction sites with ease and can handle even the most demanding conditions.
This durable machine stood up to harsh winter weather when used by Brandco, Inc.'s building crew.
"It performed beyond our expectations. We used eight framing nail guns at once and still had extra power," states Frank Gadek, Project Coordinator. "It was very easy to move around our construction sites and we found it was the only air compressor needed on site for 20 carpenters."
The Mi-T-M Rotary Screw Portable Air Compressor is designed for performance and endurance and is essential for applications calling for heavy-duty power. For more information on Mi-T-M Corporation's complete line of products, visit www.mitm.com or call 800-553-9053.