Multiquip MVC88 Plate Compactor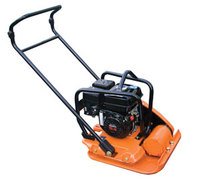 Easy to use and transport, the MVC88 is the newest and most technically advanced compactor on the market. Multiquip's Mikasa brand Plate Compactors are recognized as the industry standard for compacting granular soils and asphalt. The MVC88 features an advanced anti-vibration handle design that reduces vibration to the operator by up to 50% compared to other plate compactors. It features:
Sealed belt cover keeps dirt and rocks out of the belt
Cog tooth belt drive for longer life
Self cleaning plate design minimizes dirt and rock build up
Four lifting handles -- plate can be lifted from the side
Engine oil shutdown
Optional urethane plate attachment for use on paving stones and brick pavers (UPA-88A)
Optional transport wheel kit (WHL-88)
The compactor includes a protective engine guard and sealed belt cover that keeps dirt and rocks out of the belt. Largest in its class, the 13.7-qt. removable water tank (without tools) has a self-contained water shut-off valve. It is powered by a 4.8-HP Honda GX-160 or a 5.7-HP Robin EX-17 gasoline engine.
It weighs 218 pounds and has a 19.7 by 20.7 inch plate. It produces 3,450 foot pounds of force and has an exciter speed of 6,000 rpm and a maximum forward speed of 72 feet per minute.