Jescraft Concrete Containment Pans and Lids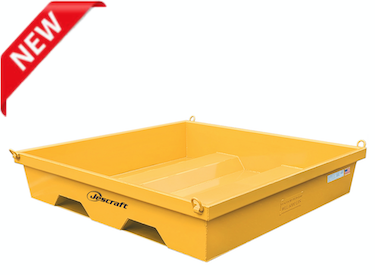 Jescraft's Containment Pans are essential on-site equipment and EPA best practice management to collect concrete washout water (or washwater) and solids, from washing down truck chutes and pump truck hoppers at construction sites. Collecting the washout water prevents contamination of the soil surface and ground water and allows the washwater to be reclaimed or re-used.
The high-quality Pewag rated D-rings provide superior strong lifting points and swivels 180 degrees, allowing connection at the right position. The D-rings also provide secure tie-down points to transport the washout pan.
Adding the Steel Containment Pan Lid to your inventory ensures rainfall does not cause the washout pan to overflow.
Fully welded steel construction inside and out
Integrated fork pockets
Leakproof
OSHA Rigging compliant hoisting points on pans and lids
Superior quality forged steel Pewag rated D-rings
Stackable design (up to 9 units) for transport or storage
Engineered and fabricated in the U.S.
Various sizes available to accommodate your site
https://jescraft.com/products/concrete-washout-pan-72-x-72-x-14/