NoSweat Hard Hat Liners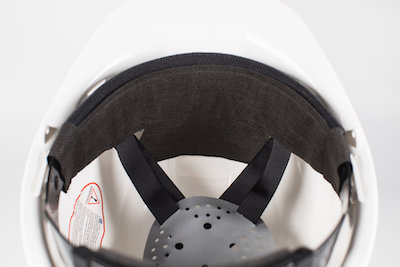 Construction, industrial workers, engineers, architects, often have to wear hard hats on the job. Laborious, active work and warm environments can leave workers drenched in sweat and with a smelly hat at the end of the day.
NoSweat has created the first disposable performance liners specifically for hard hats that absorb sweat instantly while preventing odors, stains, acne and the constant need to stop and wipe up sweat with a towel or a shirt sleeve.
NoSweat thin liners offer a universal fit in all brands and makes of hard hats and bump caps. The liners are compliant with major safety standards requirements. They can be installed in seconds by simply peeling and sticking a liner to the inside of the headwear. SweatLock technology instantly begins to absorb sweat. Moisture is locked inside the liner to help prevent dripping sweat, fogging, sweat stains, acne and odor. Each NoSweat liner absorbs around 2 ounces of sweat.
The liners are performance, safety and hygiene based allowing users to keep their eye safely on the job, without distractions that are associated with sweating. Depending on the person and activities being performed, each liner can last anywhere from one use up to two weeks.
NoSweat is a 100% American Made company. NoSweat hard hat liners are priced at $9.99 for a three pack, $14.99 for a six pack, $22.99 for a 12 pack and $34.99 for a 25 pack. For more information and to purchase liners visit www.nosweatco.com.
About NoSweat
NoSweat is a lifestyle brand and manufacturer of products that are 100% USA made and built to increase performance, safety and hygiene for anyone who sweats and wears some type of hat, helmet, visor, face shield or hard-hat. NoSweat's goal is to provide innovative products that improve how people work, play and live. Based out of Minneapolis, NoSweat offers a growing, patented line of sweat-absorbing solutions that are unique to the sports, construction, industrial, food prep, military, medical and municipal spaces. Learn more about NoSweat at: https://nosweatco.com