Abrasives: Norton/Merit Flap Discs and Fiber Discs for Metal Fabricating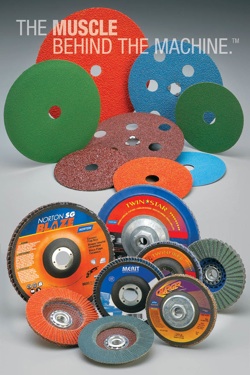 Norton introduces a complete new lineup of Norton/ Merit flap discs and fiber discs in a comprehensive multi-tier selection.
"Our new flap disc and fiber disc product lines provide metal fabricators the most complete range of right angle grinding solutions at all performance and price levels," said David Long, Director of Marketing, Strategy and Marketing Information at Saint-Gobain Abrasives.
"Norton SG Blaze Plus is offered in the BEST tier for the industry's top performance and lowest total cost solution.
"NorZon BlueFire in the BETTER tier for an excellent mix of high performance and competitive price and Merit Metal in the GOOD line for end users that are looking for performance at a great price level."
Norton/Merit flap discs are engineered for applications ranging from stock removal to blending and are available in Type 27 & Type 29 shapes with fiberglass, plastic and aluminum backing plates. Norton/Merit fiber discs feature a full resin bond system with heavy-duty fiber backing for increased strength, durability and tear resistance.
Norton SG Blaze Plus Flap Discs
Offering the "best" highest productivity at the lowest total cost, Norton SG Blaze Plus flap discs feature the latest generation ceramic alumina abrasives and are the industry's fastest cutting discs with 50-200% longer life over any flap disc on stainless steel, titanium and super alloys. Blaze Plus has a supersize grinding aid that produces a cool, noticeably fast cut rate and a durable, lightweight fiberglass back that provides high strength and vibration absorption.
NorZon BlueFire Flap Discs
BlueFire discs feature new zirconia alumina plus abrasives for an increased cut rate, offering an exceptional blend of performance and price. They provide up to 30% longer life over conventional zirconia products on carbon steel and weld. BlueFire discs also feature a durable fiberglass back and a semi open coat that retards loading on aluminum.
Merit Metal Flap Discs
Featuring an engineered blend of two high performance zirconia products, cotton and polyester flaps, Merit Metal flap discs provide a good starting specification when price is a primary consideration. They provide superior cut rate, longer life and exceptional wear resistance.
Norton SG Blaze F980 Fiber Discs
An improved ceramic (sg) grain with self-lubricating supersize treatment and heavy fiber backing, creates better finish and longer life on stainless and other tough applications. In addition, Blaze produces a cutting rate that is four times faster than standard aluminum oxide discs.
Norton NorZon BlueFire F826 Fiber Discs
The "better" choice for stainless, super alloys, steel cast iron and high pressure applications, NorZon BlueFire features a new and improved blend of patented ceramic alumina and zirconia alumina abrasive, providing fast, aggressive cutting which self-sharpens with use.
Merit Metal Fiber Discs
Merit Metal Fiber discs offer a "good" starting specification for all metals. They feature high performance aluminum oxide and provide consistent performance at a low initial price.
Norton /Merit Flap discs are available flat or conical types in sizes ranging from 4"–7" in 7/8" plain hole or 5/8"-11 discard mount, grit ranges from 24 to 120. Fiber discs are available in 4"–9 1/8" sizes with grit ranges from 16-120.