OZ Lifting Stainless Steel Beam Clamp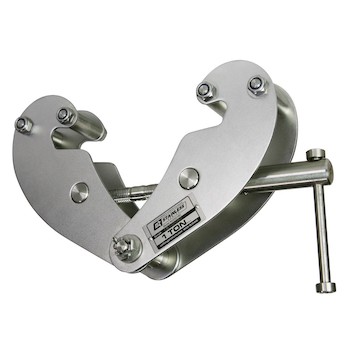 OZ Lifting Products LLC has revealed the third in a new range of stainless steel products—a beam clamp.
The launch of the clamp, available in 2,000-lb. and 4,000-lb. capacities, follows the Winona, Minnesota-based manufacturer's recent unveiling of a stainless steel chain hoist, designed for lifting and pulling, and a push beam trolley.
The beam clamp (for I-Beams) will often be used in conjunction with a hoist and serves as an additional option if the end user wants to quickly mount the beam clamp along a beam and attach a hoist to make a lift.
Steve Napieralski, president at OZ Lifting, said: "In simple terms, a beam clamp allows the user to quickly and easily attach and remove the clamp to both sides of a beam to add an anchor point for hoists and other overhead lifting equipment. Importantly, beam clamps are not intended to be used as a lifting device; they are to be used as an anchor point for a hoist or other overhead equipment and the capacity applies only to vertical loads."
The beam clamps are designed for use in corrosive environments where the properties of stainless steel make it a preferred material. As Napieralski explained, they are suited to any application where the user needs to be able to quickly and easily attach and remove the clamp as an anchor point for their hoist or other lifting device. It requires no assembly and is ready to use out of the box. The stainless steel beam clamp, like the hoist and trolley, does not require maintaining beyond that of a traditional steel product and, again, it meets a range of standards, including those of the American Society of Mechanical Engineers (ASME).
Napieralski added: "The benefits of Grade 304 stainless steel are well known in and out of industry, and we anticipate interest in individual units and multiples thereof. We have had a lot of positive feedback as it gives distributors and end users another option for lifting equipment where corrosion resistance is critical to their application."
The latest stainless steel product is in stock and available for delivery to OZ Lifting's network of regional dealers. The fact that the product is only available in stainless steel finish shortens shipment lead times. However, as the line continues to grow, it will likely be stocked by distributors, further accelerating delivery to the point of use, Napieralski confirmed. "We can typically ship same or next day depending on when we receive the order," he said.
Next off the Winona production line will be OZ Lifting's wireless builder's hoist, a 600-lb. capacity wire rope hoist that will bolster its already popular line of 500-lb. and 1,000-lb. capacity wired models.
For more information on OZ Lifting Products visit www.OZLiftingProducts.com