Adhesives & Sealants: PAREX EIFS, Stucco and Weather Barrier Products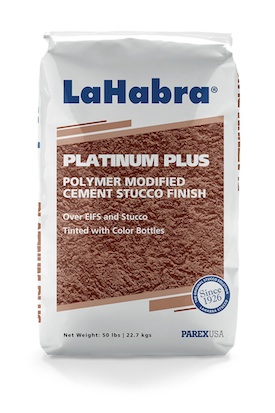 Parex USA, Inc., announces six new products to its façade division: Platinum Plus from LaHabra, Parex USA Metallic Coating, Parex USA WeatherFill, Parex USA WeatherBlock SP1 Spray & Roll-On and Parex USA WeatherSeal SB. In keeping with its tradition of product innovation, the new products which are specific to the EIFS, Stucco and Weather Barrier markets, are aimed at giving architects and contractors more cost-effective and energy saving solutions.
LaHabra Platinum Plus is an acrylic polymer modified cement stucco finish for use over EIFS and stucco. This one base system is extremely durable and has 100% higher impact resistance over stucco basecoats than traditional cement stucco finish or stucco grade acrylic finishes. Platinum Plus is tinted with acrylic color bottles and also offers increased color consistency than traditional cement stucco finishes.
Parex USA Metallic Coating has been reformulated to provide an improved rich and glossy metallic appearance for ultimate shine and allows architects to achieve the look of metallic panels without the cost. Metallic Coating can be used over EIFS, properly prepared stucco, masonry and concrete, drywall or plaster for interior applications, and Parex USA Acrylic-based finishes.
Parex USA has also introduced three new products to its WeatherTech WRBs (Weather Resistant Barriers) line of high performance products.
Parex USA WeatherFill is an exterior waterproof filler and sheathing joint treatment. It's a one-component, paintable and self-leveling moisture curing sealant that eliminates the use of sheathing tapes.
Parex USA WeatherBlock SP1 Spray & Roll-On is a Class I Vapor Barrier. With its perm rating of .09, it stops air and water leakage in the cavity wall and provides superior protection against water intrusion and greatly reduces the condensation within walls.
Parex USA WeatherSeal SB is a single component cement base waterproofing coating for CMU and concrete. WeatherSeal SB is a multipurpose waterproofing product and can be used as an air barrier, a water resistive barrier and a scratch coat.
Parex USA 360 Fast Window Mesh is aimed at making the reinforcement of rough openings faster and easier. This pre-formed mesh fits easily into window corners and eliminates the hassle of cutting multiple pieces of mesh or sheathing tape for one corner, thus decreasing labor costs.
For additional information on these products, visit www.parexusa.com.