PaintLine expands PSDR Painting/Drying Rack Functionality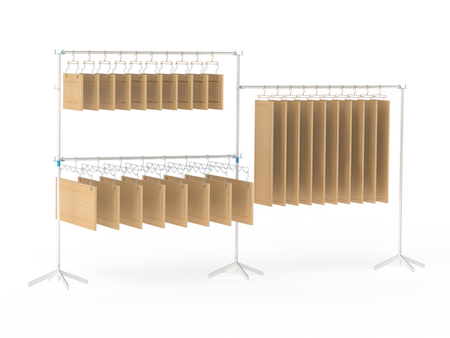 PaintLine has just introduced two new accessories for its innovative PSDR spraying and drying rack that double the rack's capacity without increasing its footprint. New Height Extenders increase the PSDR's vertical height capacity and the new 2nd Tier Connectors enable users to create an additional, customizable level of drying space.
"These new accessories can be used separately or together," says Kyle Robinson, president of PaintLine. "Either way, painters now have additional, customizable options for the PSDR. With 'no tool, brains optional assembly,' you can quickly and easily double your drying space when you use them together."
PSDR Height Extenders (set of 2): Increases the height of vertical drying space. One set of Height Extenders adds an extra foot (12") to the PSDR rack height, providing enough space for extra tall cabinet doors, shutters, refrigerator panels or other tall parts. The Height Extenders can be used to step up a single section in a drying run and work for the spray stand section as well. Retail: $22.75
PSDR 2nd Tier Connectors (set of 4): Doubles the PSDR capacity without increasing the rack's footprint. Four double-pronged couplers: one pair slides over the 66" vertical drying pole, and is secured by a thumb screw to the desired height; the second pair goes on top of the drying pole to keep proper spacing of the horizontal poles. Retail: $27.50
The PSDR Series (SD) is an integrated system designed to paint and dry cabinet doors, drawer fronts and other parts in a vertical orientation with the least amount of effort and space. Parts hang for spraying of all sides in one step.
Height Extenders and 2nd Tier Connectors are available now.
Since the 1990s, PaintLine products have provided innovative, practical and economical drying rack and spray stand solutions for painters, cabinet makers, millwork shops, residential remodelers, renovators and DIYers. PaintLine is a Merchandising Systems Inc. brand, a leader in metal fabrication for material handling and retail store fixturing for over 50 years.
PaintLine is headquartered in Menlo Park, CA.
For more information, go to www.thePaintLine.com or call 1-510-477-9100.