Pettibone Mobile Elevating Work Platforms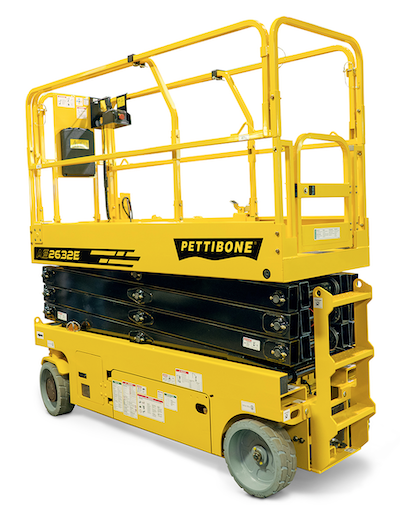 Pettibone has announced its entry into the mobile elevating work platform (MEWP) market. The company is immediately debuting a total of 13 models with work heights ranging from 18.4 to 46 feet.
Offered in electric or hydraulic drive configurations, Pettibone's ANSI A92.20 compliant lifts provide personnel with reliable solutions for safely working at height in indoor or outdoor applications. Key features of the line include a universal drive control box with LED screen, platform extensions with foot pedal control, and large scissor arms for excellent stability and durability.
"We are extremely proud of our strong reputation in the material handling industry, and we're excited to now enter a new arena with high-quality work platforms," said Scott Raffaelli, vice president and general manager for Pettibone. "The new line is a great complement to our established machines, and we look forward to providing the same level of support and jobsite performance that our dealers and customers have come to expect from Pettibone."
Pettibone will display new MEWP models at The ARA Show booth #5270 in Orlando, Florida, February 10-12, 2020, and at CONEXPO-CON/AGG booth #N11265 in Las Vegas, March 10-14, 2020.
Pettibone/Traverse Lift, LLC is part of the Pettibone, LLC Heavy Equipment Group. Founded in 1881, Pettibone has been recognized as the industry leader in material handling equipment since the company revolutionized the industry with the first forward-reaching, rough-terrain machines in the 1940s. For more information, call 906-353-4800 or 800-467-3884, or visit www.gopettibone.com.