Portable Electric Tools: Makita XBP01 18V LXT Cordless Compact Band Saw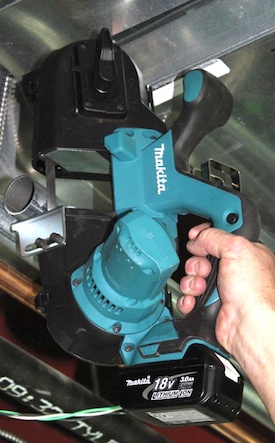 Makita has released a new 18V LXT Lithium-Ion Cordless Compact Band Saw, model XBP01. It's the latest addition to Makita's expanding 18V LXT Series, the world's largest 18V lithium-ion cordless tool line-up* with over 70 tools powered by one 18V LXT battery that reaches a full charge in only 30 minutes.
The new 18V Band Saw has a compact size and weighs only 7.5 lbs., which is up to 25% less weight than top competitors in the 18V category.
In addition, the XBP01 has a cover over the blade (outside the cutting area), which meets ANSI Standard 60745-2-20 and qualifies the saw as suitable for appropriate one-handed operation.
"The blade wheel cover enables appropriate one-handed use, and this is a big point of difference in the 18 volt band saw category," said Mario Lopez, Product Manager, Cordless Tools. "With the category-leading weight and blade speed, the XBP01 ideal for overhead cutting applications so it's a real solution for electricians, mechanical contractors and plumbers."
The XBP01 is powered by a Makita-built motor that delivers a stated category-leading 630 ft.min. blade speed for faster, more efficient cutting.
The saw accepts standard 32-7/8" x ½" blades, and with a 2-½" cutting capacity it is ideal for cutting conduit, Unistrut, copper pipe, threaded rod, angle iron, and channel.
Additional features include a built-in L.E.D. light, protective bumper design for added durability, "tool-less" blade change, and adjustable foot to protect material and provide improved support for more accurate cutting.
New Blade Engineered for Longer Life
Common blades for compact band saws may fail prematurely at the weld point due to stress caused by the tighter turning radius. Makita has released a new 32-7/8" x ½" Compact Band Saw Blade (sold separately) with improved performance and durability features. The new Compact Band Saw Blade features bi-metal construction and an improved welding process for longer blade life.
The blade has a wavy tooth set for clean cuts in sheets, tubes, and pipes, and is ideal for cutting non-ferrous metal, mild steel, cast steel, cast iron, and stainless steel. The blade is available in 14 TPI (model B-40543, 5-pack) and 18 TPI (model B-40559, 5-pack).