Nailers & Staplers: Portamatic Elevator 461A flooring nailer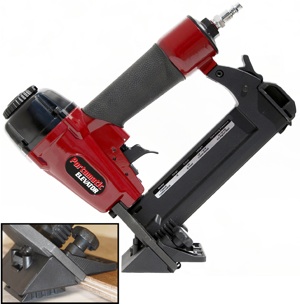 Porta-Nails, Inc. is proud to introduce its "Portamatic Elevator" designed for the installation of 3/8" to 5/8" thick tongue and groove wood and engineer flooring.
The Elevator features a fully adjustable (tool free) "Elevator Shoe" (patent pending) which configures to precisely position 18GA 1/4 "crown staples in domestic and metric flooring, including bamboo.
Its magazine will accommodate the broadest range of 18GA staples (1" to 1-9/16") making it the most versatile flooring stapler available.