RIDGID IR-200 Non-Contact Infrared Thermometer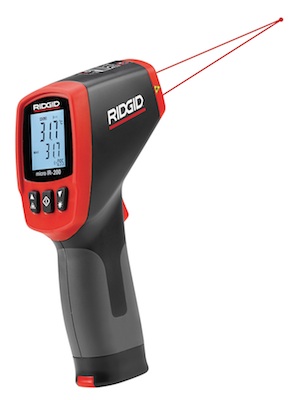 RIDGID has introduced an enhanced non-contact infrared thermometer featuring more precise measurements and a higher temperature range. The micro IR-200 Non-Contact Infrared Thermometer provides simple, quick and accurate surface temperature readings at the push of a button.
The IR-200 features the same great technology of earlier models, including simply squeezing the trigger and pointing the ultra-sharp dual class II lasers at the surface being measured to obtain a reading, while also incorporating three key enhancements.
These include the ability to take measurements from further away (30:1 distance-to-spot ratio compared to 20:1); higher temperature measurement (-58º to 2192ºF compared to -58º to 1472ºF); and having an adjustable emissivity setting to accurately measure the temperature of virtually any surface.
"The new upgrades to this model are based on feedback from our customers on what they need to help them complete their most demanding jobs. The IR-200 Non-Contact Infrared Thermometer enables professionals to accurately measure higher surface temperatures from a safe distance, allowing them to complete more jobs in less time," said Eric Huber, RIDGID senior new product development manager.
Additional features of the battery-operated IR-200 include audible and visual high and low alarms to alert users of temperatures outside of ranges set; a bright backlit display that can be turned on in poorly lit areas; and tripod mount capabilities for repeatable, precise temperature measurements.
For additional information about the new micro IR-200 Non-Contact Infrared Thermometer or other measurement tools, please visit www.RIDGID.com, or call toll-free: 1-800-769-7743.
---