Stationary Tools: Rockler CNC Mako Shark HD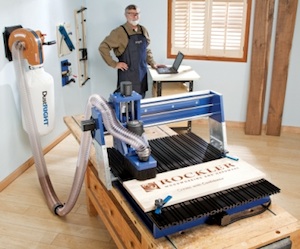 Rockler Woodworking and Hardware has just released the new limited-edition CNC Mako Shark HD. The latest in a line of several Shark models, the Mako boasts the fastest machining speed the Shark line has ever offered – 50% faster than other Shark models – and comes in a deluxe package that includes the latest software and several accessories including a magnetic dust boot, CNC Touch Plate, and 2-1/4 HP router motor.
The Mako features enhanced electronics for smoother movement, more power and 50% more speed to the motors. It also ushers in Controller 2.0 software to make the CNC experience easier than ever. With a table measuring 281/2'' x 36'', a variety of signs, cabinet doors, and many other projects are suitable for this platform.
Additionally, the Mako is built to handle larger sized routers than other CNC Shark Models. To accommodate greater torque levels, the Mako features adjustable bearings to give more stability during heavy cutting.
The CNC Mako Shark HD (44491) comes in a deluxe package that includes the CNC Mako Shark HD unit, Controller 2.0, Cut 3D, and VCarve Pro software, 1/2" V-Groove Bit, two Hold Down Clamps, router mount, Porter Cable 892 router motor, magnetic dust collection boot, and CNC Shark Touch Plate. The package retails for $4379.99 and can be purchased at Rockler Woodworking and Hardware stores nationwide, Rockler independent resellers, Rockler.com, or from the Rockler catalog.