Drill Bits: Rotabroach Tap Size Cutter Kits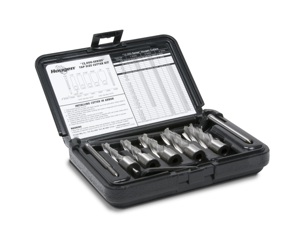 Hougen Manufacturing (Flint, MI) has recently added a cutter kit of five "tap drill" Rotabroach "12,000-Series" Annular Cutters to its series of kits. The diameters of the 2" D.O.C. tap drill cutters were selected to accommodate the most widely used taps and include 7/16" for 1/2-13 threads, 17/32" for 5/8-11 tapping, 21/32" for 3/4-10 sizes, 25/32" for 7/8-9 threads and 7/8" for 1-8 threads. The sturdy plastic case provides the convenience of holding five cutters and three pilots keeping them organized and protected from damage rather than lying loose in tool boxes or work areas.
Hardened, precision ground M2 H.S.S. Rotabroach Cutters cut clean holes and ensure the accuracy needed to get proper tapping thread depths. The cutters can be used in Hougen portable magnetic drills, drill presses or stationary machine tools.
Hougen offers 23 portable magnetic drill models, five Punch-Pro Portable Electro-hydraulic Hole Punchers, plus a wide range of annular cutters for a variety of applications, including sheet metal and tubing, all supported by over 4000 worldwide distributors and 47 service centers.