SensorSwitch WSXA Series Multiple Wall Switches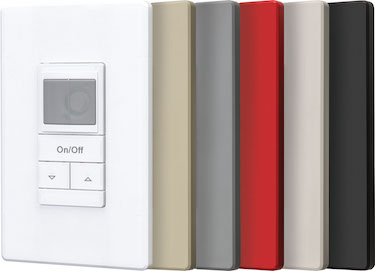 SensorSwitch, an Acuity Brands company, has announced improved functionality and aesthetics for its WSXA Series of wall switch occupancy/vacancy sensors, which are ideal lighting control devices for indoor commercial spaces that require small motion detection for both energy savings and enhanced user comfort.
The WSXA Series now features a multi-way option (MWO) for connecting up to nine switches on a single traveler for occupancy/daylight and manual switch on/off/dimming control from any switch, best applied in spaces with multiple entryways such as conference rooms, long hallways, restrooms, and breakrooms.
Key features for the WSXA series of switches include single and dual-technology occupancy detection, daylighting, powering over neutral or ground, and programmability from the SensorSwitch VLP mobile app or push button without removing the switch from the wall. Optional 0-10V dimming versions can help contribute to additional energy savings and code compliance, while improving occupant comfort in the space.
"Combining the new look of the WSXA with multi-way functionality provides our customers an all-in-one, sleek solution for occupancy, dimming and control of their spaces from multiple switch locations," said Dennis Hoskins, Product Manager with SensorSwitch. "It's all a part of our goal to deliver new features, aesthetic choices and performance options to provide customers with the best lighting controls solutions tailored to their needs."
New, enhanced aesthetics for the WSXA Series feature a screwless wall plate and updated look that helps the switch blend into the wall. Similar aesthetic upgrades are also now available on these SensorSwitch wall switch series:
PODMRA Series, a push-button dimming switch with a multi-way option (MWO), that offers a cost-effective solution to control fixtures from up to nine different locations in a room.
PODMA Series, a push-button switch that is a low-voltage wall station interface with standard SensorSwitch occupancy sensors and power packs to implement a wide range of single and bi-level switching applications.
PTSA Series, an Electronic Auto Shut-off Timer Switch, provides a simple-to-use and simple-to-apply lighting control alternative to wall switch occupancy sensors. The PTSA is ideal for retrofit applications.
SensorSwitch, an Acuity Brands company, was founded in 1987 and offers a broad selection of controls enabled luminaires, occupancy and daylight sensors, wall switch sensors, and power packs, sensors, and photocell devices. SensorSwitch devices provide reliable performance you can count on, while providing innovative sensor technologies and easy device installation. This superior technology and performance help deliver greater energy savings across a wide range of applications. Visit www.sensorswitch.com