Simpson Strong-Tie HWDC Head-of-Wall Drift Clip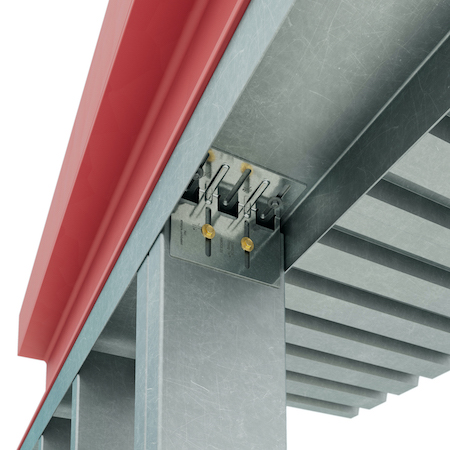 Simpson Strong-Tie, the leader in engineered structural connectors and building solutions, today announced the launch of its HWDC head-of-wall drift clip connector designed to provide engineers, builders, and framing contractors with a stiffer and stronger cold-formed steel connection while allowing for horizontal and vertical movement during high-wind and seismic events.
The HWDC is used to secure the head of a wall to the bottom of a slab or beam and is the first solution of its kind designed for multiple anchorage location options to allow screws to be installed closer to the bend in the hardware. The addition of a third anchorage slot to the HWDC also provides a secure installation solution for clips overhanging beam flanges.
Head-of-wall drift clips are a critical wall-to-beam or wall-to-slab connection, and the HWDC has been designed for versatility in application as well as enhanced strength when buildings are subjected to seismic forces and high-wind events, accommodating up to 1" of lateral drift in each direction and 1" of upward or downward vertical deflection.
"The addition of three slots at the anchorage leg allows the HWDC to be attached with either a centered anchorage pattern for maximum capacity or an off-center anchorage pattern to account for walls that overhang the edge angle or beam edge," says Simpson Strong-Tie product manager Clifton Melcher, P.E. "The unique design gives builders and contractors an easy-to-install, versatile solution that provides increased load capacity and assembly strength in the event the building moves during an earthquake, hurricane, or tornado."
Fabricated from G90 galvanized steel for protection against corrosion, the HWDC is sold with #14 shoulder screws that fit the vertical slots for attachment to stud framing. For attachment to steel or concrete, contractors should use Simpson Strong-Tie® Strong-Drive® XL Large-Head Metal screws or Titen Turbo™ screw anchors respectively. Additional features of the HWDC include:
Optimized anchorage slot placement for closer attachment to the clip bend and increased load capacity
Stiffening ribs placed in between anchorage slots to provide additional strength and stiffness
Simpson Strong-Tie No-Equal® center stamps to ensure proper screw and anchor placement
For more information on the new HWDC head-of-wall drift clip from Simpson Strong-Tie, visit www.strongtie.com/driftconnectors_coldformedsteelconstruction/hwdc_clip/p/hwdc.