Simpson Strong-Tie Mass Timber Connectors and Fasteners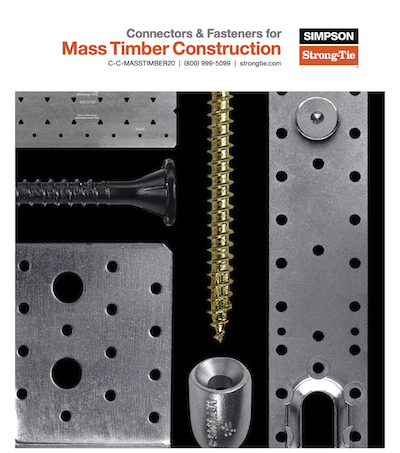 Simpson Strong-Tie, the leader in engineered structural connectors and building solutions, has launched a comprehensive offering of code-approved connectors and fasteners to serve the growing North American mass timber construction market.
Backed by a robust inventory and distribution system, along with first-rate service, support, and training, the collection of versatile, high-performance products will allow for design flexibility while enabling mass timber projects to be built stronger, faster, and more easily than ever.
First introduced in the 1990s, cross-laminated timber (CLT) and other mass timber products provide the enhanced rigidity necessary for creating larger and taller wood-framed buildings.
Recognized as a green building product for its ability to sequester carbon, mass timber is proliferating as specifiers seek sustainable structural building materials and builders embrace the efficiency and reduced waste of factory-based construction solutions.
Rigorously tested and designed to provide strength across a wide range of designs, Simpson Strong-Tie mass timber fasteners and connectors are ideal for CLT construction, and will be offered through an established national network of construction suppliers for what-you-need, when-you-need-it availability.
"With over 60 years of leadership in structural engineering, Simpson Strong-Tie is now proud to offer smart solutions for mass timber," says Randy Daudet, market segment manager for offsite construction and new business at Simpson Strong Tie. "In addition to a nationwide supply network ready to deliver high-performance connectors and fasteners at a moment's notice, Simpson Strong-Tie is looking forward to bringing our tradition of training, service, and boots-on-the-ground sales and technical support to this unique and fast-growing construction segment."
Key products launching under the Simpson Strong-Tie mass timber collection include the following:
The Strong-Drive SDWS Timber structural wood screw is designed to require less torque to install than comparable fasteners. A large-diameter washer head eliminates the need for a separate washer; a serrated thread reduces splitting and damage; and a SawTooth™ point ensures fast starts, reduces installation torque, and eliminates the need for predrilling in most applications. The SDWS Timber screw will be available in both interior and exterior coatings for a wide variety of mass timber applications.
The Strong-Drive SDCF Timber-CF screw is a structural fastener available in a variety of lengths and designed for mass timber construction and general interior applications. A large, flat head with underhead nibs makes for clean countersinking. The fully threaded shaft and proprietary point combine to provide fast starts and excellent holding power.
The Strong-Drive SDCP Timber-CP screw is a partially threaded structural fastener engineered to pull structural members together with superb holding power and high pullout resistance. The SDCP features a flat head and underhead nibs for countersinking, along with a Type-17 point for fast starts and reduced installation torque.
The Strong-Drive SDHR Combo-Head screw is a partially threaded structural fastener for metal-to-wood applications, and is designed to pull structural members together while providing excellent connection strength. A unique "combination" head drives with either a hex driver bit or a T40 6-lobe driver bit. Its Type-17 point provides fast starts and low-torque driving.
The CBH Concealed Beam Hanger is specifically designed for precise-length glulam applications, and provides a +/– 1/32" beam-length tolerance at each connector, making it easier to crane into place than concealed hanger designs that use machined aluminum.
Additional innovations making up the Simpson Strong-Tie mass timber launch include the MTW45-8 mass timber angled washer for use with a wide variety of connection plates, and the MDSS96 surface spline designed as an ideal solution for CLT diaphragms.
To learn more about how Simpson Strong-Tie can improve your next mass timber job, visit go.strongtie.com/masstimber or call (800) 999-5099.