Simpson Strong-Tie RTUD Ratcheting Take-Up Devices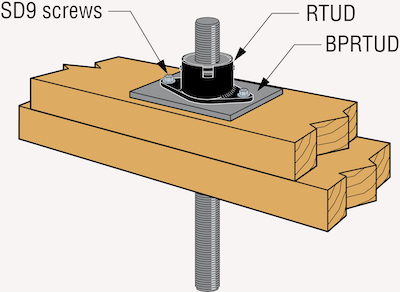 Simpson Strong-Tie, the leader in engineered structural connectors and building solutions, has expanded its product line of RTUD ratcheting take-up devices with products redesigned specifically for 7/8"- and 1"-diameter threaded rod.
The RTUD product line is engineered to provide a superior wood-shrinkage and construction gap compensation solution for continuous rod systems that resist uplift or overturning in multistory wood structures.
The RTUD is a critical component of Simpson Strong-Tie Strong-Rod tiedown systems, keeping the rod system tight as a wood structure shrinks and settles while preventing gaps between the floor and the anchoring for improved structural performance with minimal deflection.
As part of a complete tiedown system, the RTUD provides engineers and builders working on multistory projects with a pass-through design for unlimited shrinkage compensation and faster, easier installation. The new, larger devices also allow for solutions accommodating a greater size range of threaded rods and higher demand loads.
"The new RTUD ratcheting take-up device is an example of our ongoing commitment to provide cost-effective product solutions for improving structural performance while increasing on-the-job efficiency for contractors and builders," says Sam Hensen, vice president of Connectors and Lateral Systems for Simpson Strong-Tie. "With easier installation and reliable performance, the RTUD is a superior solution for connecting floors in multifamily construction."
After the RTUD has been installed on a bearing plate, a series of internal threaded wedges enable the device to ratchet down the rod as the wood structure shrinks, while engaging the rod in a reverse direction under tensile loading. RTUD engagement with the rod at all times enables the system to provide continuous load resistance from the time of installation.
Key features of the RTUD:
Engineered to maintain rod-system tightness for optimized system performance
Designed as a pass-through solution for unlimited shrinkage compensation
Available for 3/8"-, 1/2"-, 5/8"-, 3/4"-, 7/8"- and 1"-diameter threaded rods
Requires minimal installation force to achieve rod pass-through, mitigating rod buckling during wood shrinkage
The RTUD has also been thoroughly tested per ICC-ES AC316 and is code listed under ICC-ES ESR-2320. For additional information, including installation instructions, load tables and code reports, please visit strongtie.com/RTUD.