Simpson Strong-Tie Strong-Drive SDPW Deflector Screws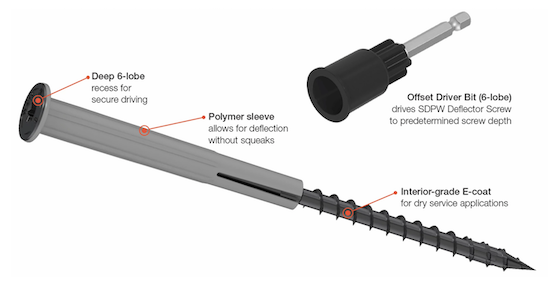 Simpson Strong-Tie, the leader in engineered structural connectors and building solutions, has introduced the Strong-Drive SDPW Deflector screw line of fasteners designed to connect non-load-bearing, full-height partition wall top plates to trusses or joists while allowing for vertical movement without associated connector squeaks.
Featuring an innovative polymer sleeve, the SDPW creates a strong connection that provides both lateral resistance and the ability for walls to deflect with the truss or joist. Atmospheric and loading conditions can put a variety of forces on a structure, and the SDPW permits vertical movement on the wall while preventing squeaks that are commonly associated with alternative hardware solutions.
Available in 3½", 5" and 6" lengths, SDPW Deflector screws allow contractors to manage up to a ¾" gap (using the 3½" screw) or a 1½" gap (using 5" or 6" screws) between the top plate assembly and the joist or truss. In addition, the included offset driver bit installs the screw with the polymer sleeve 3/4" proud to allow for upward and downward deflection.
"The SDPW Deflector screw is designed to provide a solid, squeak-free connection with simple installation," says Ed Sutt, vice president of Fastening Systems for Simpson Strong-Tie. "You just predrill, install the screw, and you're done. There's no positioning of the hardware or need for multiple fasteners — providing contractors with an elegant alternative to other solutions for connecting non-load-bearing walls to top plates and rafter assemblies."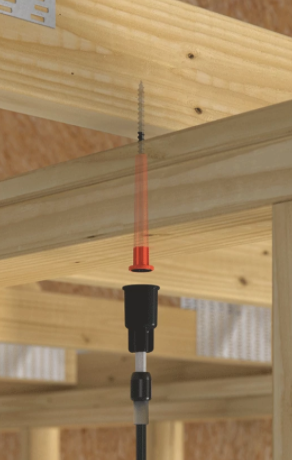 Not only does single-screw installation make the SDPW an efficient fastener for busy contractors, the polymer sleeve eliminates costly callbacks associated with squeaks from metal-on-metal connections between walls, top plates and joists. SDPW Deflector screws also won't split I-joists when installed as directed.
Additional features of the SDPW deflector screw include:
Available in 3½", 5" and 6" lengths for a wide variety of top plate configurations, including single top plate, built-up top plate, and double top plate
Fasteners have a black E-coat finish and are assembled with polymer sleeves that come color coded by length for easy identification on the jobsite
Fasteners are packaged with a six-lobe offset driver bit and a ⅜" predrill bit
Available with an 18" bit extension for easier overhead installations (sold separately)
Use it along with our Strong-Drive SDWC Truss screw for load-bearing walls for a complete wall-to-truss fastening solution
For more information on the expanded line of SDPW Deflector screws, including installation tips and instructions, please visit strongtie.com/SDPW.