Simpson Strong-Tie WSWH Strong-Wall Wood Shearwall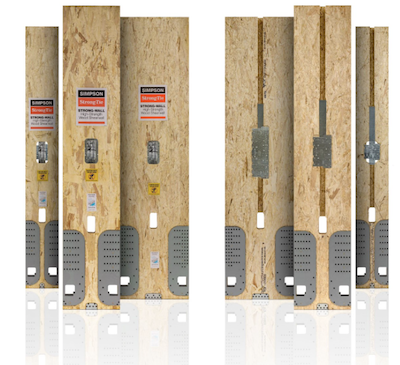 Simpson Strong-Tie, the leader in engineered structural connectors and building solutions, announces its new Strong-Wall® high-strength wood shearwall (WSWH), a versatile, high-performance solution for lateral-force resistance in light-frame residential and commercial construction.
The code-listed, prefabricated WSWH has a patented design that provides the highest allowable loads for a wide variety of applications. And unlike other shear walls, the high-strength WSWH is fabricated from a wood-based material that is field trimmable for the ultimate in fit and flexibility at the jobsite.
Ideal for providing additional structural strength and lateral-force resistance in areas subject to earthquakes and high winds, the WSWH is code listed to the 2018 IRC/IBC, conforms to ICC-ES Acceptance Criteria AC130 and AC436, and can be used in standard, garage portal, and balloon framing applications.
"The WSWH joins the Simpson Strong-Tie® Strong-Wall family as our highest-allowable-load shearwall," says Simpson Strong-Tie Vice President of Connectors and Lateral Systems Sam Hensen. "Designed for maximum versatility and efficiency in the field, the prefabricated WSWH can be trimmed for customized heights and rake walls and makes for fast inspections in residential, multifamily, and light-frame commercial construction."
Strong, easy, and versatile, Strong-Wall® wood shearwalls are supplied with top-of-wall shear transfer plates, nuts, washers, and installation instructions, and are wrapped to provide protection from the elements on the jobsite.
For more information, and to learn how the Strong-Wall high-strength wood shearwall can make your projects more efficient and help you create safer, stronger structures, visit the WSWH page at strongtie.com.