Simpson Strong-Tie Yield-Link Brace Connection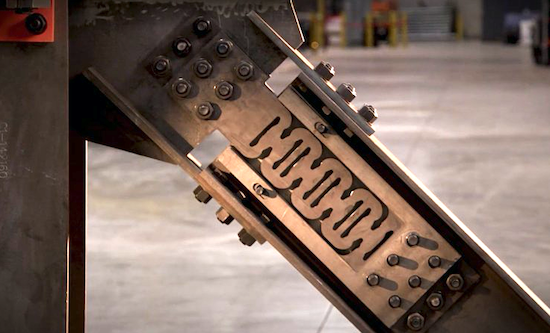 Simpson Strong-Tie, the leader in engineered structural connectors and building solutions, has introduced the Yield-Link® brace connection (YLBC), an innovative structural steel solution for dissipating energy through a fuse connection, creating a resilient steel frame that protects the beam column and brace during seismic and wind events.
The YLBC is simple for designers to incorporate into new construction or retrofits, helps reduce testing and inspection costs, and requires no field welding. Along with the Yield-Link® moment connection and Edge-Tie™ system for cladding connections, the Yield-Link brace connection gives fabricators, erectors, engineers, building owners and contractors a tested, more economical solution for structural steel construction. The YLBC is code listed in ICC-ESR-4342.
"The Yield-Link brace connection provides structural steel engineers and specifiers with a design-friendly, fully tested product. Fabricators and erectors will appreciate how fast and easy it is to install," says Tim Ellis, business development manager for structural steel at Simpson Strong-Tie. "For building owners, the YLBC reduces costs and construction time and helps provide a safe, resilient structure."
Backed by technical field support and integrated into several widely used design and detailing software tools, the YLBC joins a growing suite of proven structural steel construction solutions designed to simplify design and installation while enhancing building strength and resilience.
For more information on the YLBC, including an installation video, visit https://youtu.be/4Q5fCHamFqA.