Southwire Maxis XD1 Circuit Puller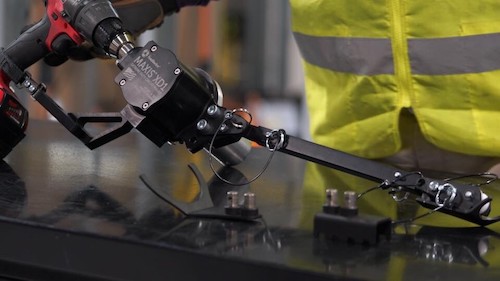 Early this week, Southwire introduced the Maxis XD1 Circuit Puller with an overwhelmingly positive response from customers and contractors.
Southwire's heritage of innovation continues from the original Pull-It 1000 Circuit Puller to the latest Maxis XD1 Circuit Puller, offering both strength under load and speed to get the job done on time.
"The Maxis XD1 puller keeps with our cable pulling tradition of improving job site efficiency and safety, which can save money and time for the contractor," said Tim Bardin, director of equipment.
The XD1puller is lightweight and portable, offering easy, one-person set-up and operation. It accepts most commercial 18V drills to deliver continuous pulling power up to 600 lbs. with a peak of 1,000 lbs.
Most importantly, its innovative design eliminates the need to pull by hand, helping to ease repetitive strain injury from continuously pulling wire or rope by hand.
The Southwire Tools marketing and product team recently traveled to a local job site with an XD1 to get contractor reactions.
"We saw a great response from the men and women on the job site," said Patience Wilson, marketing coordinator. "They were extremely excited about the time and labor the XD1 could help them save!"
Click here for a video of the tool in use.