Sullair E1035H Electric Portable Compressor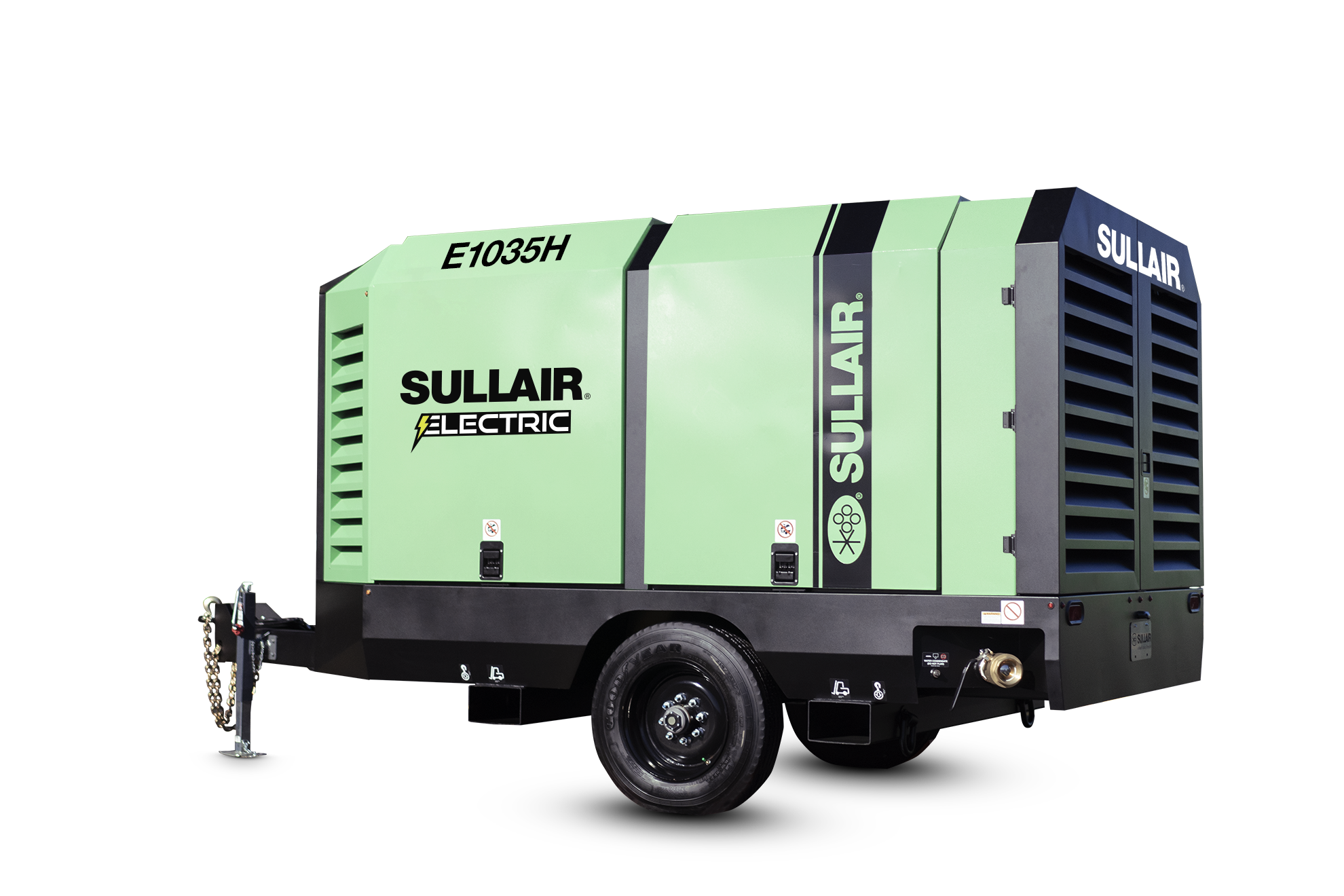 Sullair, an industry leader in innovative compressed air solutions since 1965, announced today the next step in its commitment to a carbon neutral value chain with the introduction of the E1035H electric portable compressor.
This new product development aligns with Hitachi, Ltd.'s long-term environmental targets, titled "Hitachi Environmental Innovation 2050." The Hitachi Group has set a target of becoming carbon neutral in all its global factories and offices by fiscal 2030 and achieving carbon neutrality throughout its entire value chain by fiscal 2050.
The E1035H is a next generation air compressor that provides the same reliability, durability, and performance as its diesel counterparts. It was designed by Sullair engineers based on customer insights and contains the Company's legendary air end and solid state starter for superior efficiency. It also touts quiet operation, added safety features and a lower total cost of ownership as compared to diesel compressors. The E1035H was designed for an evolving marketplace and serves as the beginning of a long line of green initiatives and product innovations planned.
"The development of the E1035H is the beginning of a new era for Sullair in driving industry-leading solutions that bring enormous value to our customers while promoting environmentally responsible innovations," said John Randall, president and CEO of Sullair. "The future of our industry - and our planet - depends on all of our commitment to investments in green technology. Our customers are expecting that commitment, and we are proud to play our part in the fight against climate change."
Demand for greener compressed air solutions has been growing and the E1035H is a direct response to that demand. The initial development of the E1035H was driven by hands-on input and involvement from Sullair customer, Ring Power Corporation.
"To stay competitive, it is important for manufacturers to listen to customer feedback, adapt and innovate," said Roger Adkins, vice president and compressed air business manager at Ring Power Corporation. "Ring Power was excited to work closely with Sullair in the development of this new electric rental compressor that meets our customers' needs. The Sullair E1035H is a promising addition to their product lineup with versatility and functionality that customers will appreciate. It's wonderful to see Sullair investing in new technology and products that will transform the compressed air industry."
The Sullair E1035H features a number of proprietary and patent-pending features which focus on environmental responsibility and user-friendliness. The E1035H is the first to feature swing-out coolers, a patent-pending design which allows users complete access to the coolers – both front and back - enabling more thorough cleaning which helps keep the compressor running optimally. Additionally, the E1035H features unique condensate management technology which helps eliminate the need for additional equipment to dispose of condensate.
Delivering equivalent power capacity and efficiency as similar-sized diesel-powered compressors, the E1035H produces 1035cfm at 150 psi, and the revolutionary, Sullair proprietary Electronic Spiral Valve (ESV) provides industry-leading efficiency. The E1035H also boasts added flexibility with its emission-less design allowing it to be used indoors and wherever a 60Hz power source is available. Finally, the E1035H runs exclusively on Sullube®, a biodegradable, varnish-removing lubricant expertly engineered by Sullair for optimized performance and maximum efficiency.
About Sullair
Since 1965, Sullair has developed and manufactured air compressors with proven reliability and wear-free durability. Sullair is globally recognized as a leading manufacturer of air compressors for use in manufacturing, oil and gas operations, food processing, construction and more. Sullair has manufacturing capabilities in Michigan City, Indiana; Suzhou, China; and a JV (IHI-Sullair) based in Suzhou. For more information, visit www.sullair.com. Sullair is a Hitachi Group Company.