Titan Impact 1140I and 1140IA Connected Smart Sprayers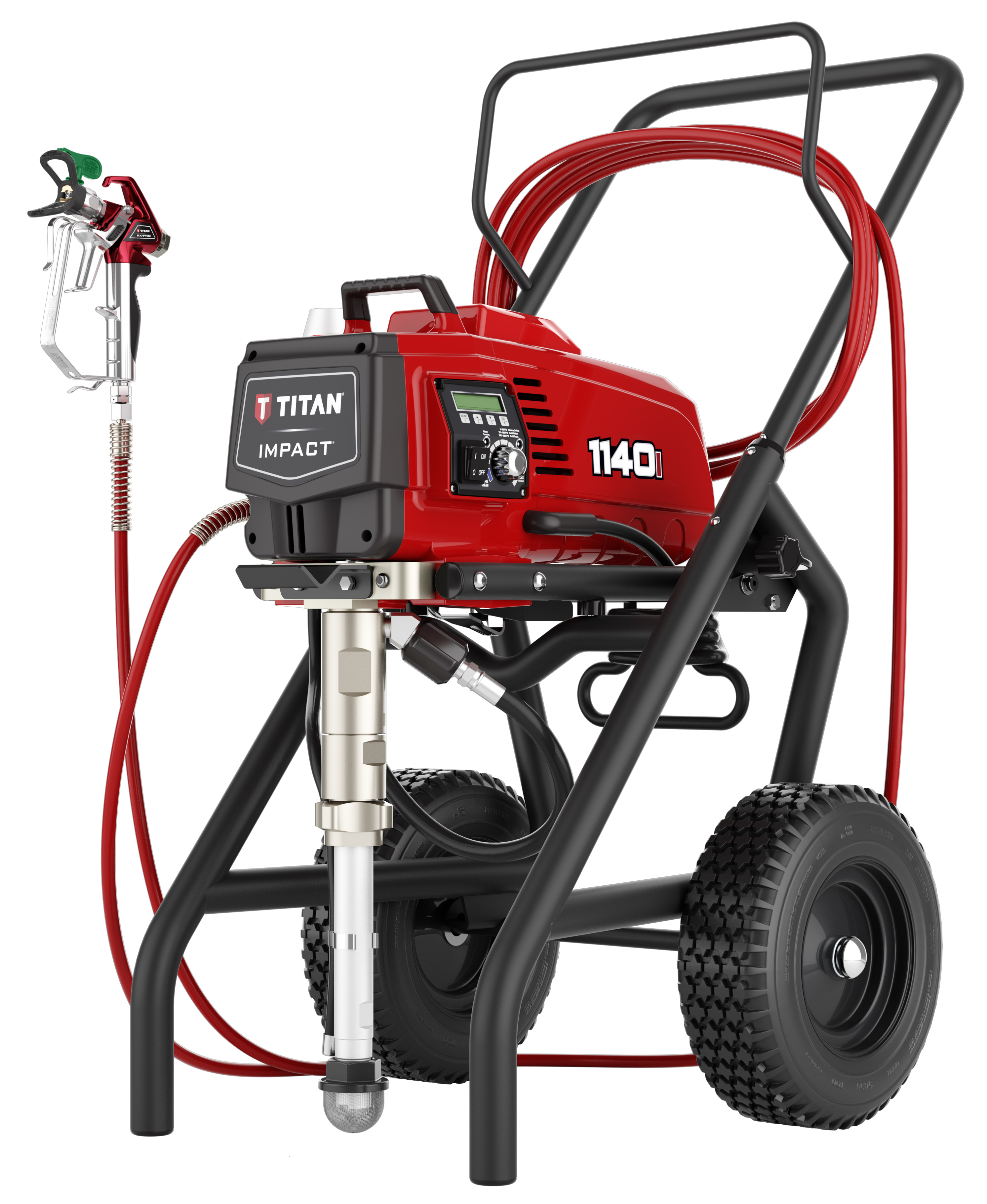 Titan has launched two new electric smart sprayers – the Impact 1140I (shown) and Impact 1140IA. They unlock new information that can increase productivity and efficiency for contractors by connecting to the free MyTitan app on mobile devices via IntelliSync™ Technology powered by Bluetooth, all while providing the performance and durability that professionals rely on from Impact sprayers.
With the new sprayers, contractors can tap into these innovative new features on the free MyTitan app:
InCommand™ Dashboard for adjusting pressure, monitoring run time and paint use, and automatically storing job details.
TipAware™, the paint industry's only live tip wear indicator for monitoring tip life in real-time and triggering in-app notifications when replacement is needed.
ActivGuard™ GPS Tracking that provides real-time sprayer location updates via the MyTitan app, even when the sprayer is powered off and/or not connected to a mobile device (Impact 1140IA only; available for purchase via subscription).
The new features above are in addition to what is already available via the free MyTitan app:
Garage Fleet Management with service reminders, productivity tracking, equipment setup, and usage data
MyJobs Project Documentation for storing project details like location, coatings, and paint consumption
ProStart provides recommendations for pressure, tip size, and filters by downloading a photo of the paint can.
Also new with both the Impact 1140I and Impact 1140IA is Titan's Logix™ Adaptive Pressure Control System, a tip-sensing technology that pairs with the existing DuraLife™ Brushless HE Motor to automatically adjust power and pump speed, delivering smooth and steady flow with consistent pressure.
"These new connected sprayers give contractors an unprecedented ability to control and manage their sprayers, jobs and information from the convenience of a mobile device," said Brent Jane, Titan product manager. "The digital functionality, paired with the durability and versatility of Impact sprayers, make the 1140I and 1140IA time saving, dependable additions to professional contractors' fleets of sprayers."
In addition to being smart sprayers, the two-gun, 1.20 gpm Impact 1140I and 1140IA sprayers have all the familiar benefits of Titan Impact sprayers. Quad+ Packings™ are self-adjusting and self-compensating, proven to extend the life of the fluid section and deliver reliable performance. An efficient siphoning system effortlessly handles a range of coatings from stains and sealers to heavier-bodied coatings like elastomeric. Stainless steel balls and carbide seats are resistant to abrasive coatings and the PermaLife™ Cylinder doesn't wear or need replacing – ever.
The Impact 1140I and 1140IA also simplify operations and maintenance with EZ Tilt™ Carts for easier bucket changes and cleaning, EasyOut™ Fluid Section for simplified jobsite replacements that require no tools, and AutoOiler™ Technology for delivering oil from the reservoir to the packings with the push of a button. The Impact 1140I comes standard with DigiTrac™ Technology for advanced onboard diagnostics vs. the Impact 1140IA, which utilizes the MyTitan app.
The Impact 1140I and 1140IA are backed by the best and longest warranty in the industry – Titan's WearGuard® four-year manufacturer's warranty. In addition, DuraLife Brushless HE motors and the drive trains have lifetime warranties. The sprayers are available in the U.S. and Canada at professional paint and equipment retailers. MSRP is $6,330 and $6,830 respectively. Visit titantool.com for more information.
Coming later this year, Titan will launch four additional connected sprayers – the Impact 640I and 640IA, and the Impact 840I and 840IA. Information will be available on titantool.com.