Adhesives & Sealants: Titebond Fast Set Polyurethane Construction Adhesive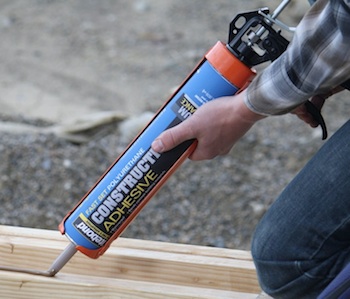 Titebond introduces Titebond Fast Set Polyurethane Construction Adhesive.
Fast Set introduces a combination of benefits not previously available in any one-component polyurethane construction adhesive. It bonds virtually all types of building materials – and is the only adhesive technology to bond two non-porous substrates together.
Equally noteworthy, it develops strength very rapidly, performs well in adverse weather conditions and creates a flexible bond for lifetime durability.
On top of those significant capabilities, Fast Set also meets the most rigorous green building, ASTM and Canadian specifications.
Further, Fast Set is the one adhesive that bonds it all – from masonry to marble, plastic to plywood, metal to foam board, mirror to drywall, slate to lead – even in adverse weather conditions. Because It extrudes in temperatures down to 32°F and bonds wet and frozen materials, contractors can use it year-round on exterior projects.
For interior projects, Fast Set adds the advantage of low odor properties, making it safer for commercial and residential environments. With a VOC content of only 20 g/l, it complies with primary green building programs, including LEED, NAHB, CARB, SCAQMD, Green Seal and Green Globes. It also meets the requirements of the American Plywood Association AFG-01, ASTM D3498, ASTM C557, CAN/CGSB-71.25M and CAN/CGSB-71.26M.
Titebond Fast Set Polyurethane Construction Adhesive is the latest – and among the most noteworthy – of a broad line of Titebond wood glues, adhesives and sealants to meet all construction applications on the job site.
It is offered in 10- and 28-ounce cartridges.
Call Titebond Customer Service at 800-669-4583.