Trusslox Hands-Free Truss Bracing System

A combination of construction labor shortage and tightening OSHA regulations prompted one professional framer to design, develop and patent an efficient and safe method to secure trusses during framing.
After exploring traditional wooden blocks, metal bracing and other temporary bracing methods, Steve Ventling, a professional framer since 1976, couldn't find a fast and productive method to use during framing for his construction company, High Plains Construction in Billings, Montana.
The saying holding true, 'Necessity is the Mother of Invention', Ventling recognized setting trusses can be expensive, dangerous and labor intensive. Ventling set out to design a new method for a temporary, reusable truss bracing. Through his efforts, TrussLox was born, an innovative hands-free truss bracing system that works.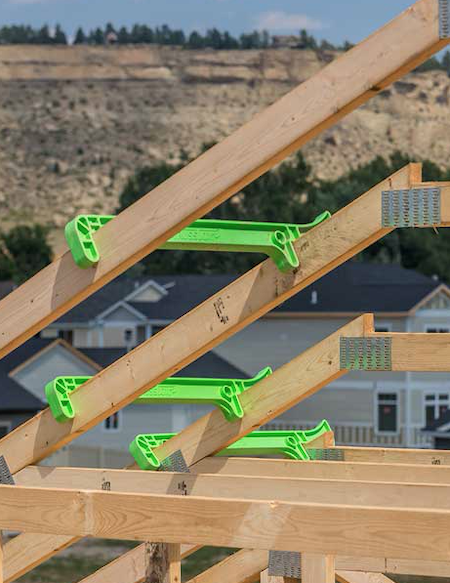 "TrussLox works as a stabilizing system", said Ventling, "For me, it's always been more about solving problems and finding building solutions for contractors that are safe, efficient and economical."
GF20180807-7394.jpgA unique, hands-free spreader bar, TrussLox self-sets and secures trusses 24" on-center while workers remain safely tied to the outside walls thusTrussLox-Spreader-Bar.jpg eliminating hazardous labor practices used in traditional methods of setting and securing trusses.
Contractors who use TrussLox praise the safety, accuracy, and speed of the bracing system. "TrussLox is the best product I have ever used," said Allen Beranek, professional contractor in Virginia, "Not only is this system a time saver, using TrussLox increased our production."
Easy to use, TrussLox is secured to a truss while on the ground. A crane or lift hoists the truss onto the roof section where TrussLox snaps into place (either by "flying" it into a set truss or the set truss receives the spreader bar). Used as a system, TrussLox secures the roof trusses until sheeting, then is detached and reused on the next project.
One contractor calculated his cost savings using the TrussLox System. Andy Risland of Risland Contracting stated, "By using TrussLox we finished 2 hours faster than the previous project, saving $570.00 on my first set. My company is building an apartment structure in Minnesota, 216 feet long, and with the speed of sets, we've saved money on crane time and man hours already."
Made in the USA, the TrussLox temporary truss bracing system is disrupting the framing industry with a new and innovative method to secure trusses.
Learn more at www.trusslox.com or call 406-601-2681.