Material Handling: Unique Lift Garage Storage System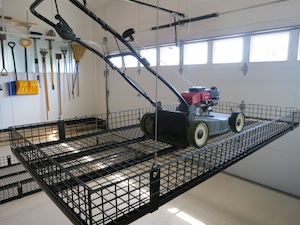 In response to the rising demand for home organization products, which is anticipated to rise 4.3 percent annually to $8.9 billion in 2013, Unique Lift LLC (Cleveland, OH) has introduced its UNIQUE LIFT space-saving garage storage system. Ergonomically engineered, the patent-pending storage optimization system offers consumers an innovative solution to the age-old problem of cluttered chaos in their garage.
Boasting weight capabilities up to 400 lbs., the product features a 32 square foot (4' x 8') welded steel storage basket that allows consumers to utilize up to 30" of wasted storage space above their garage door to store almost anything: lawn furniture, games/toys, pool/landscaping equipment, sporting/hobby gear, bicycles and more. The end result immediately reduces clutter with easy access and requires no use of a ladder−just a flip of a switch.
Controlled by a user-friendly master switch box, the storage basket is attached to four (4) 1/8" heavy duty steel cables (each rated at 2,000 lbs.) which are pulled through a rugged steel gear box and driven by a ½ horse power electric motor.
The user-friendly master switch box offers consumers vital safety features including an interlock garage door limit with garage lift, and an interlock garage lift with garage door operator. Consumers must simply depress and hold the spring-loaded button to operate the lift to their height specifications and use the key switch to control use.
Unique Lift Features:
User friendly master switch box / Capacity – 400 lbs. / 16' maximum lift height
4' x 8' x 6" (32 Sq. Ft.) 6 gauge welded steel powder coated basket
½ HP 110 v. Electric motor / Rugged steel gearbox / ANSI 40 drive chain
1" steel drive shaft supported by three bearings
(4) Aluminum grooved cable drums keyed to shaft with two set screws
(4) 1/8" steel cables each rated at 2000 lbs. load
2 / 4 heavy duty cable sheaves / 14 gauge 1 5/8" heavy duty strut channel structure
Unique Lift's suggested retail price is between $1,250.00-$1,350.00, with shipping/installation at approximately $250.00 each. Sold through a select distributor network, Unique Lift can also be purchased on the internet and discount promotions are often available.
Unique Lift is virtually maintenance free, self-lubricating, and comes with a five year limited warranty on parts.
A featured product in the YMCA Dream House sweepstakes for the past two years, Unique Lift is gaining recognition and is poised to become the garage storage solution of choice by consumers nationwide.
For more detailed information call 800-287-1014, or visit the website at: www.unique1lift.com