Abrasives: United Abrasives/SAIT Thin High Speed Cut-Off Wheels with 5/8-11 Hub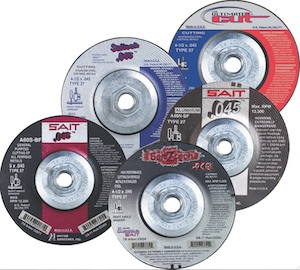 United Abrasives, Inc. / SAIT is now offering their popular .045" Thin High Speed Cut-Off Wheels with a 5/8-11 Hub! These wheels are made in the U.S.A. in United Abrasives' Connecticut facility.
Their 5/8-11 hub is custom-engineered for strength and safety eliminating the concern that a plastic hub can potentially strip out and/or melt.
The 5/8-11 cast hub also features ease of use – fast and easy mounting of the wheel onto the angle grinder.
The hub is now available on 4-1/2" and 5" diameter wheels in the General Purpose (A60S) and Aluminum (A46N) specifications along with the high performance specs – Saitech, Z-Tech and The Ultimate Cut.