Vanguard Single-cylinder Commercial Gas Engines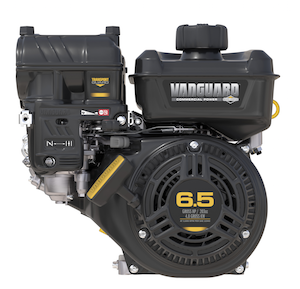 Vanguard introduces the first in a complete line of all-new single- cylinder horizontal shaft commercial gasoline engines built from the ground up based on customer input.
Vanguard developed the new engines around key areas of performance critical to improving overall productivity, including starting, maintenance intervals, service and support, and total cost of ownership. The new line will span from 5 to 13 gross horsepower* to meet power requirements for a wide range of global commercial applications.
"For decades, manufacturers have been modifying old designs. We went out and asked people what they wanted and needed out of a single-cylinder engine before we even started designing this platform," said Jim Cross, marketing manager, Briggs & Stratton Commercial Power.
"We interviewed hundreds of stakeholders including rental houses, end users and dealers worldwide to better understand the issues they face; the need for improved starting, reduced maintenance, less noise and vibration, and better service and support. Then, we engineered a superior product that outperforms the competition in each category."
The ground-up design process allowed Vanguard to comprehensively engineer all-new carburetion, ignition and combustion systems to promote reliable starting in any environment. To ensure four-season starting, the engine is designed to start at temperatures as low as -20 degrees Fahrenheit†. To further improve starting, all surfaces inside the carburetor that contact fuel feature a special corrosion and stale fuel resistant plating.
The new line of engines also includes an advanced version of TransportGuard, Vanguard's exclusive single ignition and fuel shutoff designed to prevent oil dilution during transport. The lever now incorporates throttle control, expanding application opportunities and repower capabilities. Additionally, the engine's dimensions and bolt configuration make it a drop-in solution for equipment powered by other engine manufacturers.
To reduce maintenance and downtime, the engine features an industry-leading oil management system that allows the engine to run efficiently for up to 200 hours between oil changes — double the industry standard.
An advanced fully-cyclonic air filtration system lessens downtime by extending recommended air filter replacement intervals to 600 hours — twice as long as the leading competitor. Unlike competitive engines, which offer cyclonic air filtration as an upgrade, this system is standard on the new Vanguard single- cylinder horizontal shaft engines.
Vanguard also engineered the engine's main components to lessen the impact of vibration on performance and engine and equipment wear, as well as to enhance operator comfort. To improve overall engine noise, acoustic engineers not only emphasized reducing decibel levels, but also the perceived harshness of the engine's sound.
"We didn't stop with performance. Our feedback indicated customers feel other manufacturers fall short when it comes to service and support," Cross said. "That's unacceptable. From training to warranty processing, we provide customers with unmatched support so they can be more productive and, at the end of the day, have more money in their pockets."
As a further commitment to productivity, Vanguard's robust service and support network delivers the parts and technical support customers need. Through a single national distributor with nine locations in the United States, Vanguard provides next-day delivery of more than 50,000 genuine parts and replacement engines to their commercial dealer network. Training resources are available both online and in person, with 11 training centers providing on-demand certifications and advanced EFI training. And with online technical support, a commercial telephone Answer Center and the industry's only global three-year commercial limited warranty**, Vanguard delivers the enhanced productivity commercial markets deserve.
The first available model in the new single-cylinder line, the 6.5-gross horsepower* Vanguard 200, will be available to OEMs and for engine repowers in 2018. The remaining models — ranging from 5 to 13 gross horsepower* — will be introduced over the next two years. For additional information, visit www.vanguardengines.com.
*All power levels are stated as gross horsepower at 3,600 rpm per SAE J1940.
**See www.vanguardengines.com for complete warranty details.
†Based on proper starting procedures and fuel and oil specifications.