Zircon Leak Alert WiFi Smart Water Detector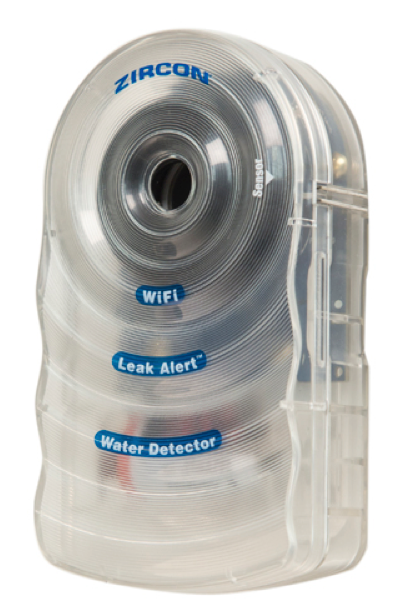 Zircon Corporation, maker of the original electronic stud finder, announces the launch of the Leak Alert WiFi, the company's first Wi-Fi enabled smart water detector.
The latest addition to their popular Leak Alert water detector line, Zircon continues to strengthen its mission of providing essential, affordable, high-tech tools for homeowners and professionals worldwide.
Once enabled, the Leak Alert WiFi utilizes Wi-Fi connectivity to provide email, audio, and visual alerts to homeowners, renters, business owners and property managers of a water leak as soon as one is detected.
At home or away, owners of the Leak Alert WiFi can now be assured their home is protected and potentially save thousands of dollars in water damage and repairs. Ingeniously engineered, the Leak Alert WiFi features Wi-Fi connectivity with no hub required.
The self-contained, battery powered unit can send notifications to up to 5 email addresses as soon as the device is triggered. Owners are alerted when a leak is detected, without having to be physically present at the detector's location.
The Leak Alert WiFi can be placed in multiple locations throughout the home or property. Place the detector near sinks, refrigerators, washing machines, sump pumps, aquariums, and in basements.
When a leak is detected, the detector will send alert(s) via Wi-Fi to notify all configured email addresses, emit a 105 dB alarm, and flash two bright red LED lights.
All Zircon Leak Alert water detectors are housed in durable plastic cases designed to float. In the unfortunate incident flooding occurs, the Leak Alert WiFi can float with the alarm continuing to sound for the life of the battery.
Product Features
Wi-Fi connectivity – No hub required
Loud alarm (105 dB) sounds for up to 8 hours
Email, visual, and audio alert
In the event of a flood, unit will float and continue to sound alarm until battery is depleted
Fully automatic – no wiring required
Low-battery indicator for optimum safety and performance
"With its Wi-Fi enabled detection, simple installation, and low maintenance, the Leak Alert WiFi provides real-time peace of mind homeowners, property managers, and business owners can all benefit from," stated Zircon president John Stauss.
By sending email alerts with no hub required, the Leak Alert WiFi is a no guesswork, easy-to-use device.
"With no monthly or annual required fees, this affordable water detector is the smart choice in water detection and a natural addition to any home, property or business." The Leak Alert WiFi includes a 3V lithium battery and detailed instructions. For questions during set-up and use, customers can reach a Zircon tool expert at 1-800-245-9265, Mon – Fri, 8AM – 5PM PST.