fischer Injection Mortars and ETICS Solutions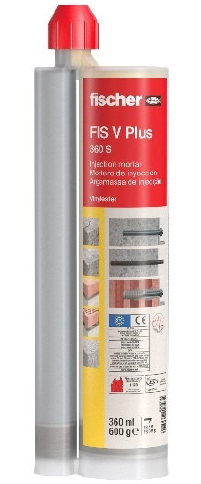 fischer is introducing the first universal injection mortar with an evaluated service life (ETA) of 100 years in concrete with the FIS V Plus. Its system components offer a wide range of applications. Among these is the stand-off installation system Thermax 12 and 16 to install fastenings through external thermal insulation composite systems (ETICS) into the load-bearing base practically without thermal bridges.
fischer has also launched the world's first injection mortar with a patented formula entirely free of hazard labels with the FIS V Zero.
fischer offers a wide range of injection systems for fastening high loads. In addition to its assessed (ETA) service life of more than 100 years in concrete, the latest generation of fischer universal mortars FIS V Plus also offers the benefit of a high bond strength in concrete and a wide range of applications.
It can also be used with low edge and axial spacing. FIS V Plus applications include fastenings in concrete and all conventional solid and perforated bricks, post-installed rebar connections, water-filled drill holes as well as seismic applications in performance categories C1 and C2 or A and B according to the American ICC-ESR.
The injection mortar is the safe choice in the event of fire (fire resistance class R120). A large selection of suitable system components provides a broad range of possible applications.
In addition to anchor rods and internal threaded anchors for fastenings in concrete, aerated concrete and masonry both indoors and outdoors, plus injection anchor sleeves for perforated brick, there is also a special range for numerous specialist applications. This includes the stand-off installation system Thermax 12 and 16 for thermally separated fastenings to external thermal insulation composite systems (ETICS) in non-load-bearing layers with thicknesses of 62 to 290 mm.
The fischer Thermax 12 and 16 stand-off installation system enables the compliant fastening of marquees, French balcony rails, satellite systems and numerous other fixtures to outside walls, ceiling fronts or in rear-ventilated curtain facades while ensuring thermal isolation. The plastic cone interrupts the thermal bridge between the fixture and the internal fastening, thus achieving energy optimisation.
Variants with 12 and 16 mm threaded rod diameters (Thermax 12 and 16) are available for anchoring heavy loads in insulation thicknesses of 60 to 295 mm. Thermax 8 and 10 variants are suitable for securely fixing medium heavy objects such as fixtures, lights, awnings, letter boxes and lightning conductors. They "bridge" insulation with thicknesses of 45 mm to 240 mm. fischer furthermore offers the FID, FID-R and FID-Z insulation fixings to fasten lightweight fixtures in insulation without a thermal bridge.
FIS V Zero is another innovation with a special, hazard-label-free formula that guarantees the protection of people and planet. fischer used a patented, new curing system for the first time with the FIS V Zero innovation in order to achieve this. No peroxides are used during this process, meaning there is no need for any hazard labels. Combined with the use of non-hazardous raw materials, this mechanism means that the FIS V Zero does not require hazard labels even under the strict stipulations of the EU's current CLP chemical regulation.
As a result, users can process the injection mortar without protective measures and safety equipment. Used cartridges can be disposed of in the usual household waste, avoiding the costly disposal of hazardous waste. Unlike many other injection mortars, our FIS V Zero does not require separate packaging and shipping, which saves packaging materials and reduces transport.
FIS V Zero achieves excellent performance characteristics and can be used for a versatile range of applications, as confirmed by its European Technical Assessment (ETA) for fastenings in concrete, masonry and post-installed rebars. The product innovation combines a secure hold in conventional building materials with the highest health and safety requirements.