iQ Power Tools 14" Dry-Cut Power Cutter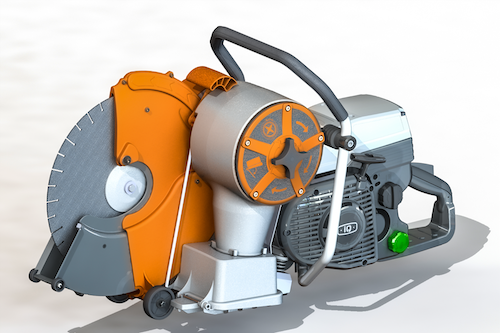 iQ Power Tools, manufacturer of premium power tools with integrated dust collection systems, will debut the first prototype of their new iQ914 Dry-Cut Power Cutter, specifically designed for the masonry and hardscape industries at this year's World of Concrete in Las Vegas, Nevada, June 8-10, at inside booth # N823 and outside in the Innovation Zone.
The iQ914, the world's first 14" dry-cut power cutter with integrated dust control, captures up to 90% of the dust right at the source... resulting in a cleaner, safer and more efficient jobsite.
"This saw is a game-changer for construction professionals, " Sarah Williams, iQ's Marketing Director. "The iQ914 is our new and improved version of our iQPC912 cutter. The entire machine has been reengineered with an improved ergonomic design and upgraded dust collection system, designed around our innovative cyclone technology. Plus, as an answer to contractor demand, it will offer a 14" blade."
The OSHA-compliant iQ914 features a 81cc German-engineered, two-stroke, high performance engine and an anti-vibration system with five steel springs and a rubber-coated handle for fatigue-free operation.
The motor offers a choke-free easy start system, and a one Push Stop-System that stops the engine and immediately prepares it for renewed operation.
The 914 also features automatic oiling, a benefit where oil is automatically mixed with the fuel by an electronically-controlled pump. The user never again has to worry about having the correct fuel mixture.
The integrated, powerful vacuum sucks dust through a retractable blade guard. This dust containment has a
capacity of up to 5 pounds, with the ability to connect to the iQ426HEPA Dust Extractor for additional dust collection capacity.
"We've also created a bucket docking station accessory for efficient dust collection," added Williams.
For more information, please contact Sarah Williams, Marketing Director | Sarah.Williams@iqpowertools.com
About iQ Power Tools
iQ Power Tools manufactures a comprehensive range of premium power tools with integrated dust collection systems for the concrete, masonry, hardscape and tile sectors. The company was founded by third-generation masons Joel and Paul Guth, who have logged over 30 years each in the masonry industry. Decades of experience taught them about dust problems; their company started out creating tools to solve their own problems only to realize these same issues affected all contractors… mess, money and a threat to the health and safety of the industry. iQ Power Tools envisions a future where their innovation helps create a 100% dust-free environment: jobsites are safer, work practices are healthier... and, the construction industry becomes even more sustainable.