STAFDA News, August/September 2015
---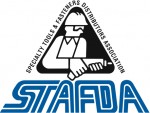 NASCAR Hall of Fame ramps up for STAFDA's Charlotte Opening Party!
It's Members of the Specialty Tools & Fasteners Distributors Association (STAFDA) will head out to the old ball game during STAFDA's Opening Party at Chase Field, home of the Arizona Diamondbacks!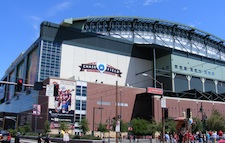 When STAFDA takes convention attendees to the ball park, there's no "one, two, three strikes you're out." If members want to take a swing, run the bases or even clock the speed of their fast ball more than once — they can!
STAFDA has rented Chase Field for its Opening Party, Sunday, November 8, so attendees can get the full experience of being on the playing field while enjoying the best in food and drinks.
The Herndon Brothers, one of Phoenix's hottest bands, is a nine-piece ensemble that will kick up dust with everything from George Jones to George Strait, and Van Morrison to the Rolling Stones. They'll be on stage all evening to keep the ballpark jumping.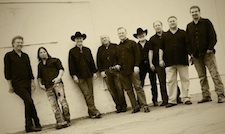 To run the bases, in true STAFDA form, attendees will have to rein in their swing to bunt, then hop on a giant tricycle to round first base and head to second. From there, it's an inflatable obstacle course to third. Before heading home, they'll have to put their head on top of a bat, spin about, and then stagger toward home plate!
For those looking to expand their horizons to different sporting fields, there will be SuperShot basketball, football target toss and pool tables for the off-season athlete. There will be plenty of games and sporting activities to keep everyone occupied. Plus, pop-up fly balls — of sorts — will be STAFDA's T-shirt cannon pumping out Diamondback wearables throughout the night. And, at
9:00 p.m., there will be a special surprise overhead to cap off the evening.
Most importantly, the Opening Party gives attendees a chance to get to know their peers while having a great time. The networking opportunities are always special memory-making moments with industry colleagues.
STAFDA's 39th Annual Convention & Trade Show is November 8-10, at the Phoenix Convention Center. View the full agenda at www.stafda.org. You must be a member to attend.
For more information on STAFDA's Convention & Trade Show and membership, please contact Catherine Usher, member services director, at (800) 352-2981 or e-mail cusher@stafda.org or visit www.stafda.org.