Inside Klein Tools' Texas Manufacturing HQ
Klein opens new heat treating plant and prepares to break ground for more.
---
Mansfield, TX is a city of 60,000 roughly midway between Fort Worth and Dallas, just south of Arlington. Based in part on its thriving employment base, climate and low cost of living, Mansfield was ranked number 30 on Money Magazine's 2012 list of America's best small cities. These attributes, combined with the state's strong pro-business environment, enabled Mansfield to make a successful bid to become the new home of Klein Tool's manufacturing headquarters. Klein Tools now owns 100 acres in Mansfield and has two plants here, with more on the way. The company has a family connection here too: company president Thomas Klein got his B.A. degree at Texas Christian University in nearby Fort Worth.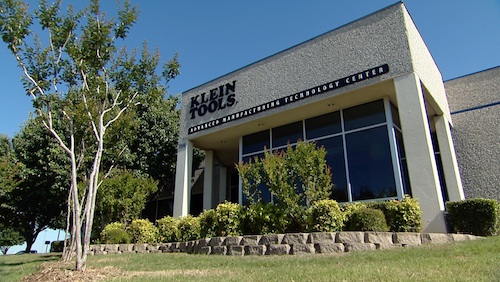 Klein Tools' Advanced Manufacturing Technology Center in Mansfield, TX is the company's new base of manufacturing operations.
On Thursday, April 10, Klein officially cut the ribbon on its new heat-treating facility. Contractor Supply attended the event and toured both facilities — the Mansfield pliers production plant and the shiny new heat-treating plant, which is just now coming on-line.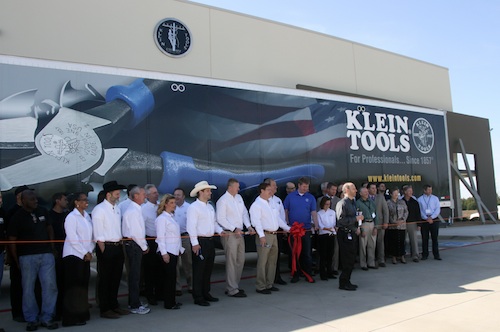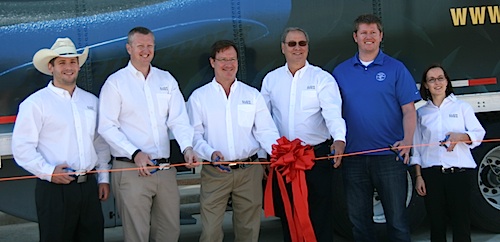 Top photo: vice president of marketing Greg Palese (seen standing slghtly in front of Klein's family members and plant managers) addresses a gathering of press and local dignitaries at the ribbon cutting ceremony for Klein Tools' new Mansfield, TX heat treating plant.
Above: Klein family members prepare to cut the ribbon — actually a Klein fish tape, with Klein tools, naturally. From left to right: David Klein, associate product manager; Michael Klein II, director of advanced manufacturing; Thomas R. Klein, president; Mathias Klein III, chairman; Derek Klein, lead manufacturing coordinator and Megan Klein, associate marketing manager.

Greg Palese, vice president of marketing, welcomed us with a brief presentation and a few comments about Klein Tools' ongoing commitment to manufacturing in the United States.
"Klein Tools manufactures more SKUs of tools used in electrical applications here in the United States than any of our competitors," Palese stated. "Like most global companies, we do source some products abroad, but Klein Tools makes 14 times more products here in the United States than we do in any other country."
"Klein Tools has invested more than $200 million in U.S. operations since 2006. Over the past 10 years, the vast majority of our investments have been to expand our manufacturing capabilities in the USA."
— Thomas R. Klein, president, Klein Tools
Thomas R. Klein, company president, then briefly discussed Klein's selection process for choosing to base its new headquarters in Mansfield and discussed the interplay between the company's administrative headquarters in Lincolnshire, Illinois, and its plastics injection molding plant in Michigan and packaging plant in Cedar Rapids, Iowa. Klein Tools chose Mansfield in part because of incentives from The Texas Enterprise Fund, which was created to entice businesses to relocate to Texas.
"Klein Tools has invested more than $200 million in U.S. operations since 2006," Thomas Klein said, and noted that the Mansfield facilities speak to the family-owned company's long-term business model and commitment to growth. The company currently operates eight plants in the U.S. that employ over 1,000 people in six states: Illinois, Texas, Iowa, Arkansas, Michigan and New York.
"Over the last 10 years, the vast majority of our investments have been to expand our manufacturing capabilities in the USA," Klein added. "Additionally, while we have recently built several new facilities, we also continue to invest in our existing factories to support continuous improvement initiatives in the areas of product quality and productivity. Currently, planned investments in excess of $100 million will allow us to manufacture in the USA some of the products we currently import, and to make new products that would otherwise be imported without this investment."
That investment is ongoing. Klein will break ground soon on another 175,000 square foot plant in Mansfield. This plant, set to come online in 2016, will be home to the company's screwdriver and nut driver production.
Chris Hargan, senior vice president of manufacturing, is justifiably proud of the company's investments in US manufacturing.
"In Elk Grove Village, Illinois, we have the country's first automated forging system," he said. "We have our own injection molding operation in Michigan, and now we have our own state-of-the-art heat treating facility here in Texas."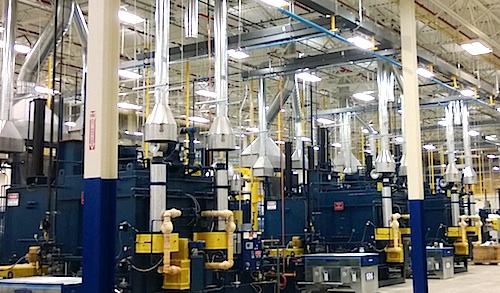 Inside the new heat treating plant, a bank of six state of the art ovens 'bake" untreated pliers to 1,600 degrees F.
Unlike many US based operations, Hargan stressed that Klein's manufacturing operations focus not on production speed, but rather on product quality, continuous improvement and minimizing waste. As proof, Hargan said that the Mansfield plant recycles 10,000 pounds of steel per month.
On the plant tour, 16-year Klein veteran Matt Marinovic, operations manager for manufacturing, explained Klein's process.
"Each forging starts as a 20-foot bar of proprietary steel," he said. "And each forging is accurate to 0.005 of an inch."
Over the years, manufacturing advances have dramatically increased accuracy and reduced the number of operational touch points needed to produce a finished product.
"Just one of our improvements took part of the process from 25 clamping operations down to two," Marinovic noted.
Pliers go through the manufacturing stations in pairs, which minimizes errors. When both sides of a pair of pliers are processed side by side, any discrepancies are immediately visible.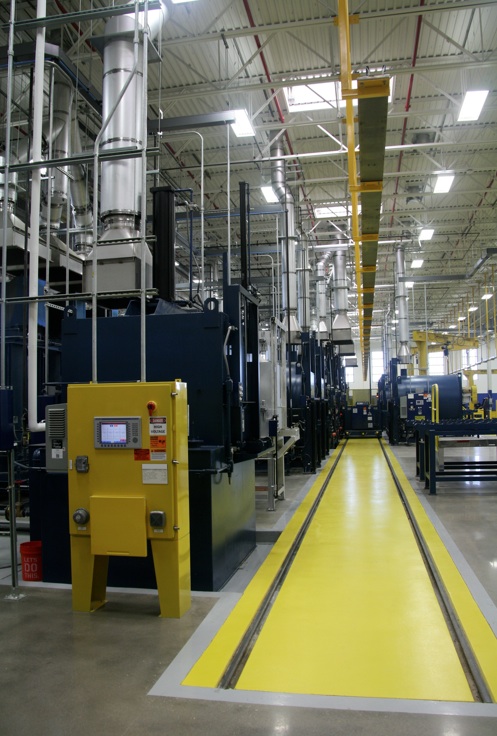 In the shiny new heat treating plant, a computer-controlled track shuttles racks of tools to and from a bank of six heat treating ovens on the left and cooling chambers visible on the right.
The Mansfield plant also has 10 flexible work cells that can quickly adjust production to changing demand.
Advancements in manufacturing productivity and robotics have also enabled Klein to do more with fewer people.
"In 1998 we had nearly 900 people producing these products," Hargan added. "Today we produce 25 percent more product with approximately one-half of the people we had then."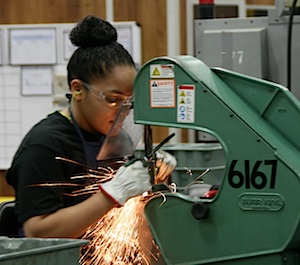 In the Mansfield TX, manufacturing facility, a worker grinds and inspects pliers as they proceed from raw steel to finished product.
This month's opening of Klein Tools' state-of-the-art advanced manufacturing plant in Mansfield, TX demonstrates the importance of the human factor even when relying on machines to turn out quality, American-made products. It's not enough to have the world's best technology; you have to find and train the world's best people to be able to use that technology correctly.
So far in Mansfield, Klein has provided jobs for 200 workers, with many more to come as the company continues on its growth track.
"The opening of our new heat treating facility in Mansfield will help us keep up with product demand, streamline operations to stay competitive and provide American jobs in advanced manufacturing," said Thomas R. Klein, president of Klein Tools.
Klein Tools is also growing beyond its traditional pliers and screwdriver lines. Recent products include fish tapes and rods, the MM500 Auto Ranging Multimeter, new slim-grip handle designs for its 1,000-watt insulated tools, tool bags, step bits, screwdrivers and a growing line of glow-in-the-dark handle tools.
Klein executives, including Kurt Owen, director of product development, also hinted at a number of new products that will enable Klein Tools to build upon its brand equity as a premier U.S.-based tool manufacturer and provide more jobs for American workers.
Learn more at www.kleintools.com