PFERD Names Tool Mobile Program Leader
Jeffrey Kwasny will lead mobile training program.
---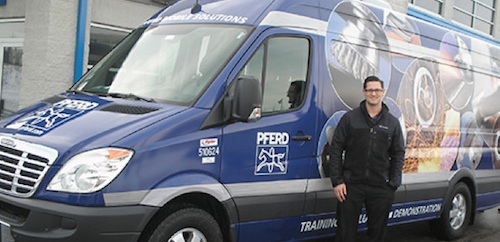 The PFERD Tool Mobile program, which was launched in the U.S. ten months ago after proving successful in Europe and Australia, has a new applications Sales Engineer in charge. Jeffrey R. Kwasny has recently been appointed to implement the company's program in North America.
Kwasny will report directly to John Thompson, PFERD's National Technical Sales Manager and be responsible for bringing the highest standards of metalworking productivity to end users and PFERD distributor partners directly at their field locations throughout the U.S.
Kwasny is originally from Ohio and earned his BS degree in Business Administration at Kent State University. His work experience includes time as a technician with ICI Paints also in Strongsville, Ohio.
He will continue to reside in Valley City, Ohio and travel from his home office there to all scheduled Tool Mobile appointments. These metal finishing solutions' appointments will be primarily in the midwest area for the next several months.
As the program expands in the U.S., PFERD plans to launch more Tool Mobiles with additional Applications Sales Engineers under Thompson's direction.
Users or distributors in the midwest area wanting to learn how Jeff Kwasny can help them, may schedule a PFERD Tool Mobile metal finishing solutions session at their location, can visit www.pferdusa.com/toolmobile or call 1-800-342-9015.