Posted July 29, 2016
SubLoc PRO SCRAIL fasteners receive approval for AdvanTech flooring
Huber Engineered Woods approves Fasco SubLoc PRO SCRAIL fasteners for use in AdvanTech flooring panel installation.
---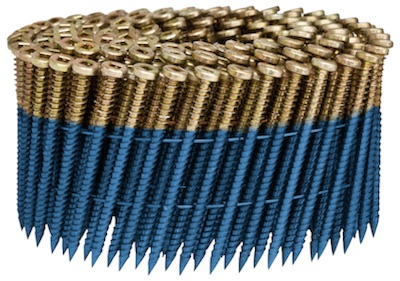 SubLoc PRO SCRAIL Fasteners receive Approval from Huber Engineered Woods for AdvanTech Flooring Panel Installation
SubLoc PRO SCRAIL fasteners developed by the BECK Fastener Group recently received approval from Huber Engineered Woods to be used as an alternative to nails as a fastener when installing their AdvanTech flooring panels. SubLoc PRO SCRAIL fasteners help prevent subfloor squeaks by securing against micro-movement of the underlying wood flooring materials.
AdvanTech flooring panels are high performance panels that have strength, stiffness, and weather resistance superior to commodity panels. To fasten AdvanTech properly, Huber Engineered Woods' recommendation is to use a code approved 8d deformed shank nail, #8 wood screw, or other code approved fastener which complies with Section 2303.6 of the International Building Code (IBC) and Table 602.3 (1) of the International Residential Code (IRC). The use of Subloc PRO SCRAIL in accordance with Section 4.2 of IAPMO UES report 406 to install AdvanTech subfloor panels is an approved fastening method.
With head pull through values more than 10% higher and withdrawal values that are more than 40% higher than ring shank nails, SubLoc PRO SCRAIL are proven to be the premier product for building professionals.
Brett McCutcheon, General Manager of FASCO America, Master Distributor for the BECK Fastener Group, commented, "We are delighted that our SubLoc PRO SCRAIL product has been approved by Huber Engineered Woods for use with AdvanTech, an award-winning engineered subfloor panel. With aggressive double threads and substantial holding power, SubLoc PRO SCRAIL is an excellent choice for AdvanTech installers."
The IAPMO's evaluation represents the ultimate in independent assurance, being the foremost source of uniform codes and standards used by building officials across America. Last year FASCO America announced that the IAPMO's Uniform Evaluation Service had updated its evaluation report ER-0344 to indicate that SubLoc PRO SCRAIL fasteners are in full compliance with both the 2012 International Building Code (2012 IBC) and the 2012 International Residential Code (2012 IRC) requirements as approved substitutes for 8d common nails used in horizontal diaphragm, shearwall, and braced walls.
Learn more at www.fascoamerica.com or email sales@fascoamerica.com.