HYTORC Clamp Nut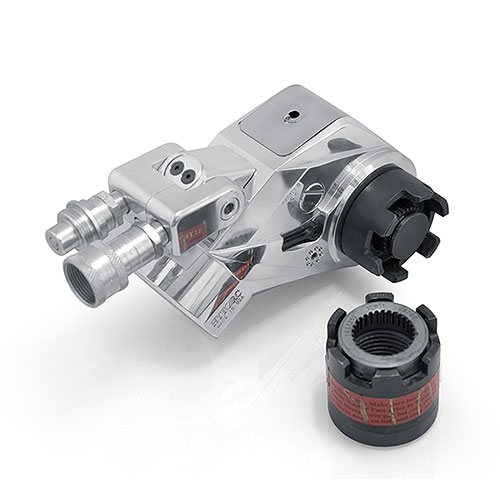 The HYTORC Clamp-Nut has an established reputation as the fastener industry's most advanced connection device for sensitive, high-load applications. But it's the company's integrated system that makes the Clamp-Nut successful in applications that range from mission-critical aerospace environments to key industrial processes.
HYTORC is a leader in the manufacture and distribution of industrial hydraulic and pneumatic bolting tools, hydraulic torque wrenches and other hydraulic tensioning fasteners and tool products.
The HYTORC system begins with the Clamp-Nut, a three-piece fastener that includes an inner sleeve, outer sleeve and a washer. The fastener boasts a hardened surface in the inner sleeve and washer that prevents galling. In addition, the geometry of the three-piece design allows the fastener to safely bring increased mechanical tensioning to high loads. Standard Clamp-Nuts have a load range that extends to 1.5 million pounds; unit sizes extend from 1 ½ inches to seven inches are standard. Custom-design Clamp Nuts are available in all sizes.
"The Clamp-Nut is the most-advanced fastener in the industry thanks to the combination of surface hardening in the inner sleeve and precise geometry," said Mike Dolan, director of engineering for JETYD Corporation, a division of HYTORC. "The value in our system is not only a superior connection, but greater speed and improved safety."
The Clamp-Nut functions as a mechanical tensioner while eliminating bolt over-stretching and highly stressed tensile pullers. Using a HYTORC driver and torque tool configuration, moving the outer sleeve in a clockwise motion causes the inner sleeve to push upward, rising with the bolt. This action provides an accurate, gentle cold stretch without residual load loss. The end result is pure tensile load and an ideally tensioned fastener.
The HYTORC system – torque wrench, driver and Clamp-Nut – creates a self-contained force system that eliminates damage because no torque is transmitted to the bolt. Since all components are in a managed force flow, preload losses are negligible.
In addition, the system is hands-free thanks to elimination of the need for the reaction arm that's employed in conventional hydraulic fastener torque applications. With the Clamp-Nut, the user places the tool on the fastener (even if inverted), stands back from the application and then operates the pump from a safe distance
"The HYTORC Clamp-Nut is really a fastener system. All of the components work together to form a strong structural connection," said Dolan. "This product offers 100 percent elimination of galling on flange and stud surfaces. That fact alone makes for a strong recommendation, but increased speed and greater worker safety make specifying the Clamp-Nut the right choice every time."
The HYTORC Clamp-Nut is available in all thread forms, with low, standard, medium and high temperature ratings available.