Safety: Honeywell Indoor/ Outdoor Evaporative Air Coolers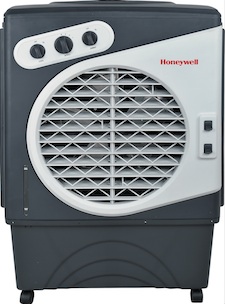 Honeywell Indoor/ Outdoor Evaporative Air Coolers are powerful and make an ideal choice for keeping indoor and semi-outdoor environments comfortably cool and breezy. They are built with a powerful motor and wide fan blades to help deliver strong air flow.
Honeywell Air Coolers feature unique honeycomb cooling media for optimum evaporative cooling.
A range of air coolers with different sized water tanks and features are available to serve diverse needs and volumes from 300 to 850 square-foot spaces. Some models include a continuous water supply system and a built-in water overflow protection system that is convenient for long, unattended operation.
Honeywell Air Coolers use a unique Honeycomb Cooling Media. The cooling efficiency of Honeycomb Cooling Media is much higher than other cooling media due to greater surface area for transfer of humidity to the passing air.
When warm, dry air passes through the Honey- comb Cooling Media, it mixes with the water held in the honeycomb, causing the water to evaporate and lose heat, resulting in cooler moisturized air. The large surface area and unique angles of the Honeycomb Cooling Media allow longer retention of water and help the warm air to travel through at high speeds with less resistance. The result is highly efficient cooling.
Honeywell Air Coolers have a carbon filter which traps dust, mosquitoes and unwanted particles from passing through the air cooler.
Honeywell Air Coolers use copper motors that feature high thermal and electrical conductivity, making them more efficient than traditional aluminum motors. Copper motors have high corrosion resistance and are protected from overheating by a thermal overload protection system. This ensures long-lasting use, even in more harsh and hot environments.
The model CO60PM (shown) cools up to 850 square feet and is ideal for placement in a wide variety of settings including factories, workshops and warehouses.
Specifications:
Unit Size: 27.6 (L) x 18.3 (W) x 40.0 (H) in

Power Consumption: 850 watts

Water Tank Capacity: 60 Litres (15.8 Gallons) Air Flow: 2616 m3/hr (1540 CFM)

Net Weight: 41.4 lbs

Gross Weight: 52.3 lbs