STAFDA's March to Atlanta
Great things to see, do and EAT in Atlanta!
---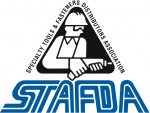 Atlanta is home to countless great restaurants, including some of the best steak houses in America. Frankly, Scarlett, you don't even have to leave the hotel for some terrific eats. As God is our witness, you may never be hungry again.
STAFDA hotel restaurants:
Westin Peachtree: Sun Dial Restaurant Bar & View • 404-589-7506
Atlanta Marriott: Sear • 404-586-6134
Embassy Suites Centennial Park:
Ruth's Chris Steakhouse • 404-223-6500
Hilton Garden Inn Downtown: Legal Sea Foods • 678-500-3700
Omni Hotel CNN Center: Prime Meridian • 404-818-4450

Other local favorites: Seafood
AquaKnox • 404-381-1160
Pappadeaux Seafood Kitchen • 770-984-8899
Six Feet Under Pub & Fishhouse • 404-523-6664
McCormick & Schmick's Seafood • 404-521-1236

Steak
Aspens Signature Steaks • 678-905-7603
Kevin Rathbun Steak • 404-524-5600
Bone's Restaurant • 678- 809-0352
McKendrick's Steak House • 770-512-8888
Morton's The Steakhouse • 404-816-6535
Fogo de Chao • 404-995-9982

Italian
La Grotta Ristorante Italiano • 404- 537-2811
Pricci • 404-237-2941
Sugo • 770-817-8000

Big Game: All you can eat
Saturday, Nov. 7: Atlanta Hawks vs. Denver Nuggets, Phillips Arena, 7:00 p.m. www.nba.com/tickets
Sunday Nov. 8: Atlanta Falcons vs. Washington Redskins, Georgia Dome; 1:00 p.m. www.atlantafalcons.com