Industry News
The latest news for the construction supply channel, including distributors, suppliers and manufacturer's rep firms.
Visit our Archives under the Industry News heading for the top stories for prior months.
______________________________________________________________________
Thiesse brings Mi-T-M decades of successful sales management experience.
Hialeah, Florida-based distributor gains new global resources.
New home for United States Army Captain (Ret.) Jason Church is in Oconomowoc, Wisconsin.
Genesis Wire & Cable is a low-voltage wire and cable manufacturer based in Pleasant Prairie, Wisconsin.
Makita, Milwaukee, PrimeSource and Ridgid are among tool category winners.
FastenMaster MVP multipurpose wood screws feature SureStart points for fast starts and TORX® ttap® drive systems.
Company sets the stage for growth in distribution and expanding product lines.
Jessica Yurgaitis replaces Chris Bateman, who retired in June.
Efforts further Bobcat's commitment to community and sustainability.
Single-family permits rise 2.0% for month while startds and completions fall.
Kito Crosby aims to raise $50,000 for Children of Fallen Patriots Foundation.
Event provides the fuel for "Earning the Right" to service professionals' tool and equipment needs.
Heavy Duty CFA rig is cropping concrete piles on infrastructure projects in the country.
Virtual Test Lab predicts how new helmets will perform in real-life impacts.
Expert review of video reduces risk, saves carriers time.
Oklahoma Safety Council recognizes McElroy for excellence in safety and health.
Sales program on 100psi tools runs until October 31, 2023.
Research reveals that AI (52%), automation (51%) and machine learning (49%), are the foundation for creating business value.
Collaboration creates a solution designed to empower independent distributors and enhance their business performance.
ASKO is acquiring a majority stake in the company.
Event will bring together industry leaders, including women in construction, general contracting, development, engineering and architecture.
"Generate Safety" includes classroom materials, teacher's guide.
Anderson joins Acme Tools from The Retrofit Companies.
Sales increase compares to Q1 2022.
Company's comprehensive range of reusable packaging is tailored to the specific needs of the battery and EV sectors.
Braucher will lead sales, marketing and operations in the United States and Canada and oversee All-Serv Industrial and Berg Nelson businesses.
Season three's eight episodes begin on September 6.
Item Options allows for enhanced searchability and for counter agents to find the right item to rent, every time.
Large utility project, residential starts power growth to begin Q3.
New color program will benefit dealers, deliveries and customers.
New partnership will expand the competition to students around the world.
Hoefer has been with Mi-T-M since 1996.
Final additions complete Malco's transition to a strategic board.
Eck was 2023 AWS president.
Partnering with an expert in moisture measurement and composition analysis can be essential to ensure the safety and performance of construction projects.
Facility to produce 15,000 acre-feet per year of purified water for injection into Southern California groundwater storage basin.
New second edition covers the first module of NCCER's Solar Photovoltaic Installer curriculum.
NSK is a global leader in bearings, ball screws, linear guides, auto parts and precision/industrial machinery solutions.
Foundation promotes careers in the trades.
Affiliation will make Greenkote coating capabilities directly available to the European Union and surrounding region.
Average sales price was $513,000.
Lancaster, the nation's leading distributor of paint sundries, is now offering a wide array of PaintLine products.
The Skilled Trades Advisory Council joins forces with NEST, which provides Integrated Facilities Management to industry.
Construction Angels provides immediate financial support and grief counseling to the children and spouse when a construction worker suffers a fatality on the jobsite.
New considerations increase CIE rental revenue projections through 2024.
Tom Northcott is named President of the Lawless Group's North Central Region.
New location offers all-makes construction equipment repair along with Kobelco and Takeuchi equipment.
Shared vision, creative synergies and significant resources will redefine what it means to be a welding wholesaler.
Okland brings Mule-Hide more than 25 years of roofing industry experience.
Sales of $42.9 billion were down 2% from Q2 2022.
Provider of web-based equipment dealership management solutions partners with digital inspection software firm.
Promotion runs now until October 31, 2023.
Wright joins the Evergreen Supply Network of more than 100 leading suppliers of industrial tools and equipment.
JLG offers a variety of optional accessories for scissor lifts and boom lifts to increase operator safety and productivity.
Multi-family starts inch up 3.9% in for month.
Wade McCone, Director of Training and Education, becomes interim General Manager.
DuPont donates Great Stuff foam sealant for veteran's home in Lynn, Massachusetts; TV series to premiere on Lifetime in August.
Employees, retirees and their families enjoyed an open house event.
Continuous safety monitoring solutions predict and prevent heat injury, illness and death from heat on worksites.
Award honors women in the industry who are making outstanding contributions to their companies and their communities.
New 11th edition covers 2023 electrical codes and regulations.
Now, welding students can obtain a complimentary membership for four years.
Personalized training programs enhance boiler technology and hydronic skills and knowledge.
Interactive commercial building HVAC system efficiency comparison app helps builders choose the most efficient systems for their projects.
North Dakota-based family-owned and -operated company was founded in 1948.
CNH Reman will now offer IHLE combine wear parts to Case IH and New Holland dealers.
Dalton will manage the Fecon Connect online parts-ordering site and lead procurement and inventory management.
2.5-day program will be held at the Nashville Hilton, March 12-14, 2024.
To date, agency's tool drive has generated more than $415,000 in donations.
Donation drive is sponsored by Mosaic, an Emerson employee resource group focused on giving back.
Doran tire monitoring systems are available for all size and type fleets – from owner-operators to international fleets.
Public construction inches up 0.3% for month; private construction improves 0.5%.
Operation Turn the Page will equip countless children with tools they need to break the cycle of poverty.
Doka is a leader in providing innovative scaffolding, formwork and safety solutions.
Tips for safeguarding your assets and fortifying your operations against this persistent threat.
New guide covers add-on accessories that can increase operators' job site productivity and safety.
Survey Trend also shows 15% month-to-month gain and plus 1.9% year-to-date.
1.2 million-square-foot facility will expand the company's presence in Southwest and Midwest U.S.
But June 2023's rate was 23.8% higher than that of June 2022.
Full-color poster helps users to recognize and safely handle defective lithium-ion batteries.
Program will provide U.S. service men and women with resources to help them successfully transition into the civilian workforce.
Company's ProTools app is recognized as a top boiler app of the year.
Mike DeLisi brings company more than 15 years of vacuum technology experience.
Five parks each receive $50,000 for park restoration, beautification or enhancement needs and a new Bobcat zero-turn mower.
Scott Rouse brings DPA 15 years of accounting, finance and operations experience.
Chris Keffer is promoted to President; Terry Horan is appointed to STIHL Inc. Board of Directors.
ELA report also sees 1.6% GDP growth as recession looms.
HP's robotic solution accelerates complex construction site layouts, delivering up to 10x the productivity of manual techniques.
Permits show mixed bag for month with multifamily units dipping 3.7% for month while single-family permits rise 2.2%.
Event will be co-located with ASSE annual meeting and ARCSA Annual Conference.
Michelle Gross brings Sellars 25-plus years of experience with B2B and B2C national brands.
Form Tech Concrete Forms provides concrete forming and shoring rental equipment and related consumable products.
Cooper acquires Warner Rentals Ltd. and Scotty's Rentals and Landscaping Ltd. in western Canada.
Viega plans to invest over $70 million in the next two years to expand U.S. manufacturing and support North American customers.
Aptix integrates data from multiple sources into one platform for optimal efficiency.
Add value to customers and add to the bottom line.
One winner will receive a $25K backyard makeover, plus the opportunity to meet country music superstar Justin Moore.
By 2027, over 360,000 welders will be necessary to satisfy our nation's workforce demands.
Marketing director Nancy Gunnerson retires after 34 years at Malco.
Partnership creates efficiencies that reduce costs and downtime.
CEO Chris Bateman retires after more than 40 years of service.
Residential construction drives growth for month, increasing 2.2%.
Company adds two new RSMs and a Business Development Manager.
Stabilizing supply chain allows company to reduce prices.
Group also promotes Jonathan Porter to manager of government affairs.
Society offers a full slate of training opportunities this summer.
Grand Prize is a Makita Edition 2023 Can-Am Maverick X3 DS TURBO SSV outfitted with Makita 40V max cordless equipment and tools.
Trade professionals and advanced DIYers can apply from June 29 to July 16.
Nearly 58% of NetPlus Alliance distributor members saw sales growth of 8% or more in Q1.
Chris Haefer joins IronCraft from Woods Equipment/Wain Roy.
Sponsorship celebrates the importance of local park and recreation spaces and the professionals who support them.
Ace Hardware to offer 20% off select CRAFTSMAN products through July.
Abu-Hatoum joined Sellars in 2020.
Average selling price runs $487,300.
Company's Construction Division grows to provide streamlined financing throughout North America.
New mobile app allows access to unique offerings at the push of a button.
Govan steps up from territory manager.
Best-in-class cutting saw is reborn thanks to customer demand.
New app helps users find just the right tool for their application.
Company was born in 1983 with the creation of a tracked snow trail groomer.
To date, agency has donated more than $415,000 worth in donations for the organization.
Ultimate Industrial is a UK-based provider of hand protection and PPE.
Upgraded algorithm is faster and more accurately predicts peak indoor water demand.
Coxreels offers custom products for any application.
Leading companies from Germany and abroad confirm their participation at the leading global trade fair for the hardware industry.
Event raised $330,000 to support practitioners and patients in the Pediatric Simulation and Resuscitation Program.
ROLAIR's model 13GR30HK30 is its flagship truck-mounted stationary air compressor.
Contest recognizes outstanding customer service; Winner receives $500 cash!
Company remains PRO driven and committed to creating products that make work
faster, easier, and more efficient for contractors.
Host Dirk Beveridge is travelling the USA helping distributors tell their stories.
Hiring signals company's expansion into HD trailer springs and beyond.
Company predicts sales and comp store sales for 2023 to decline between 2% and 5% YOY, but grow 3% and 4% per year going forward.
New report reveals trends and factors that distributors evaluate in ERP puchase decisions, adoption and implementation.
Company will auction off a Bull Hog mulcher attachment to raise funds for charity.
Equip Exposition runs October 17-20, 2023 in Louisville.
Expands product offering, boosts regional reach.
First run of this new program will take place March 12-14, 2024 in Nashville.
Certification is the result of rigorous field testing, and is important news for an industry seeking best options to replace gas equipment.
The Slag Cement Association agreement with the ACI Center of Excellence for Carbon Neutral Concrete wil combine resources and build on strengths.
G&V provides machining needs for the construction, agriculture, off-road, highway trucking, forestry, mining and other OEM industries.
It's not just for Christmas anymore!
The Three P's — Preparation, positioning and punch.
Sessions cover leadership, instilling accountablility, relationship building and more.
Limited-edition craft beer celebrates trade professionals and the RIDGID legacy.
Distributors have shown they can beat Amazon. So, what's the real threat?
Hiring to begin for 25-30 new jobs in the community.
Promo runs now through June 30.
Informative how-to guide provides tips and insight as foundations for skills development.
Breakthrough optics reduce lumens behind the pole to just 0.5% while providing outstanding forward and lateral projection.
Users can now use Simpson's planning software to design decks with MOSO Bamboo X-treme decking products.
Special award was presented at SouthernCarlson's National Sales Meeting, April 14 -16, 2023, in Nashville.
Winners operate dealerships in Connecticut, Georgia and Wisconsin.
Sixth edition of Core: Introduction to Basic Construction Skills is now available.
Celebrate daily as the Roofing Alliance shares National Roofing Week activities.
Randy Breaux promoted to Group President, GPC North America.
Whitepaper answers six frequently asked questions about equipment maintenance, parts and service.
Will add magnetic mounts and fasteners to line-up.
Larry Cook is named VP of Commercial Sales and Paul Ihde becomes Director of Commercial Sales.
Weil steps up from Global Vice President of Finance.
Join him August 17, 2023 for the Coaching for Sales Success public seminar.
New site provides a fast and easy way to find information on code-compliant non-slip stair treads and nosings, emergency egress systems and more.
New tools reveal the costs of switching to battery-powered tools and charging them over time.
John Beers III joins Engineered Wood Association Board of Trustees.
PlanHub's Q2 Thriving in the Dynamic Construction Market report uses key insights from over 340,000 companies and 700 general contractors.
Company will invest $120 million in Tennessee facility over the next two-years to increase SkyTrak manufacturing.

Tests aim to establish the seismic resiliency of mass timber construction with simulations of both the 1994 Northridge and 1999 Jiji earthquakes.
Doran manufactures tire pressure monitoring systems for truck fleets and off-road equipment.
Annual conference fetes members and suppliers and recognizes top contributors to the group.
Q1 2023 sales decrease 4.2% from Q1 2022.
ISM is the exclusive global licensee for PUMA® Safety Shoes.
FNA Group seeks retroactive imposition of antidumping and countervailing duties on Chinese and Vietnamese competitors to curb attempts to evade U.S. antidumping and countervailing duties.
Ambitious plan sees new product programs and global expansion into more countries.
Outlook calls for greater growth than previous quarter's projection.
New position will spearhead sustainability journey across the company.
Dr. Christina Nishiyama brings the company more than 15 years of human resources leadership experience.
In 2022, member purchases from NetPlus preferred suppliers hit $418 million, 27% more than 2021.
Company named as a Gold Standard winner for maintaining achievement for four years.
Charlie Gerstman steps up from Vice President of Sales for the family rep agency.
Barrett will succeed Tim Broderick as he retires in June 2023.
Russell Kohl is President and CEO of Diablo/Freud Tools, Atlanta, Georgia.
Kubota recognizes OTR as a top supplier for outstanding quality, delivery, and cost commitment.
Advanced Emergency Responder Communication Enhancement Systems (ERCES) eliminate potential dead zones in commercial buildings to help first responders stay connected.
Company sets goal of 50k people trained nationwide through Ladder Safety and Fall Protection events.
Silicone Coating System calculator and Pre-Packaged submittals available on mulehide.com.
Point of Rental enjoyed their first HAE Supplier of the Year award so much in 2022, they earned a second one on Saturday at Grosvenor House in London.
Shawn Ledbetter joins PCS from Milwaukee Tool.
NBIMS-US V4 has been three years in the making.
Britain's Ladder Association found that over 80% of commercially-available telescopic ladders sold online failed to meet minimum safety requirements in tests.
Merger represents a key step in Zircon's path to entering the public markets.
McLeod joins IAPMO from Kohler Co.
Cintec has advocated building restoration with fire-resistant anchors since 1993.
Patrick Cummings has been promoted to Senior Vice President and Chief Financial Officer.
The indoor 3,500 square-foot space will be equipped with 200+ Viega fittings and piping systems to show various applications.
New center will serve Miami-Dade and Monroe Counties.
Average selling price runs $562,400.
May 1-5 event will focus on fall prevention through safety demonstrations, talks, trainings and other activities.
Learn about the benefits of solar panels and decide if they are worth it for your home.
KOHLER, Clarke Energy, Kohler Uninterruptible Power, Heila Technologies and Curtis Instruments brands will now fall under the Kohler Energy brand.
New brand identity and website launch a new era for the organization.
Top prize includes VIP trip to industry event, chance to work with product design team.
New event is open to to all women attending the Convention.
Tape can have unexpected consequences in MRO work. Here are the most important things to consider when reaching for a roll.
Peter Altenberger is named Corporate VP of Sales; Damian Allen and Jay Courtney are promoted to divisional VPs of Sales.
Initiative will provide expanded technical expertise and support to end users in key segments.
Manufacturer gains efficiencies with CGW vitrified wheels.
New site features modern design, more online resources and forecasts.
New 30K sf masonry supply center is designed to meet the needs of builders, architects and homeowners under one roof.
However, single-family permits, starts and completions all rise for the month.
New Center will serve Michigan, Ohio and Northeast Kentucky.
Premium power tool manufacturer launches "Festool Experience" tour In U.S.
Partner programs are among the best ways to offer channel partners easy access to marketing materials.
Automakers embrace thin, strong, dexterous Brass Knuckle SmartCut BKCR2403 for assembly work.
Design overhaul gives Premier a fresh look that better reflects its robust product line.
APOC expands educational program that helps pros build in-demand skills with leading roof construction and restoration products, deck/concrete waterproofing solutions.
Industry event takes place April 12-14 at the Charlotte Convention Center in Charlotte, NC.
Accident awareness event will run April 17-21.
Fecon's current network includes more than 500 dealer locations globally.
Partnership will expand the companies' capabilities in the building and construction industry to serve customers across Florida and beyond.
Andrew Watkins will serve IronCraft customers in southern California, southern Utah, Arizona, Nevada, New Mexico and west Texas.
Pettys Garage.com becomes latest retailer to carry Best Working Wipes.
Move creates multi-market juggernaut; adds whole product lines, expands microfiber and wiping product offering.
Five building exterior professionals from across the U.S. honored with national recognition, $1,000 tool kits.
Four popular nailers are on sale through May 31.
Arjang "AJ" Roshan-Rouz brings significant experience in leading a global organization.
Panuccio has been with ClarkDietrich since 2002.
Construction workers can now talk with plans using Togal.GPT
Leading distributor of commercial supplies, equipment and chemicals announces continued growth with acquisition of California-based concrete floor coatings distributor.
GatorBar composite rebar is 2 to 4 times stronger than steel.
Zelis is executive vice president of strategy at Buyers Products Company.
Spring Network Meeting welcomes AD's Safety Network division for the first time.
Company's leaders join international council that aims to reduce vehicular accidents and fatalities.
Amer Ascic becomes after-sales manager and Diana Lacaire is named controller.
Simpson serves nearly 300 active partners in LBM Advantage.
2023 SORCI Report confirms 63% of builders generate net margins of 10% or less.
Small company evolved into global provider of flashlights, lanterns and headlamps.
New members include the Bryer Company, Nu-Ray Metals and TS Metal Supply.
New directors include François Deschênes, Chrissy Nardini and Donald D. Slominski, Jr.
Deal expands Fecon's presence in Mississippi, Arkansas, Tennessee, Kentucky, Indiana and Ohio.
John Dominice and Lida Gasper are named to company's Hall of Fame.
Make your job easier with instant connection, more functionality and many capabilities all with one app.
New Burnsville location will increase efficiencies and reduce delivery times.
New data shows manufacturers return to growth, increased output.
RIDGID will select six winners for a VIP Experience at its global headquarters Elyria, Ohio.
Epoxy or resin type anchors have failed in building fires but Cintec cementitious anchors maintained their integrity.
Advanced second generation stud finder utilizes multiple sensors and sophisticated signal processing to filter out false positives.
OTR Wheel Engineering becomes OTR Engineered Solutions.
Bastek is a 33-year veteran of The Home Depot and replaces Jeff Kinnaird, who is leaving the company.
Delahunt is the past president of Renewal by Andersen Corporation, a $950 million subsidiary of Andersen Corporation.
New year begins with declines as fewer mega projects break ground.
Nelson will serve customers in Alabama, Mississippi and Louisiana.
Company earns Impact Award and is named to MO 100 Top Impact CEO list.
320-page full-color catalog details DENIOS' entire line of environmental protection and workplace safety products.
Visit MAX in the North Hall at booth #N10877 and in the South Hall at Booth #S63240/38.
More than 400 articles to troubleshoot machine issues by code or symptom.
Report shows notorious Russian-linked ransomware gang superseded its own record in February 2023.
Mark Mazurkiewicz comes to PIP from Alkegen.
Carl Hynes has previously worked with Waters Corporation, Pratt & Whitney and Colt Manufacturing Co.
Jennifer Edgar takes over for Terry Westerman, who has retired.
New name symbolizes group's evolving mission and programs.
California State Fresno's Molly Smith and Michele Randel promote careers in construction for women.
Although most sectors slip M-O-M, commercial construction rises 0.9 percent in January.
Annual campaign brings national awareness to the importance of ladder safety on the worksite.
Award-winning former Aspen Marketing veterans join Lawless Group.
Logan Contractors Supply of Des Moines takes top award.
More than 750 vendors exhibited for professional attendees.
Wickert previously worked for GE, SKF and WD-40.
Carlisle Architectural Metals' brands include Petersen Aluminum and Drexel Metals.
How ladder safety training works all year long.
Visit MAX at the show February 23-25 in booth 2201.
Brinkerhoff joins Streamlight from Fein Tools.
Top associates are moving up and new positions are being created to expand BECK's customer service capabilities.
BTF addresses skilled trades labor shortages by improving talent supply, training and retention.
Guide details the company's extensive line of bio-based products including hydraulic fluids, gear oils, greases and penetrants.
Two monthly gains for the Housing Market Index at the start of 2023 match the cautious optimism noted by builders at the International Builders' Show in Las Vegas.
Top Suppliers include 3M and Meltblown Technologies.
Brumfield joins AD from FyterTech Nonwovens.
MAX-Series RT-135F and RT-75 loaders include a next-generation cab with 360-degree visibility­.
Thirty-year industry veteran looks to continue company's forward momentum over first five years in North American market.
New partnership will benefit customers in the region by providing a full complement of sales and aftermarket solutions.
Overall outlook for non-residential construction remains positive, with a year-over-year starts increase of 15% compared to 2021.
The NAHB International Builders' Show sees highest attendance in a decade.
New offering includes all the content from Core: Introduction to Basic Construction Skills, Sixth Edition and HVACR Level 1, Sixth Edition in a single online course.
Davidson is President of ADD Associates, Inc., an architectural manufacturers' representative firm serving the New England market and specializing in Division 8 products.
New cross-laminated timber plant is going up in Dothan, Alabama.
British piling experts partner with Pinnacle Drilling Products.
Company dedicates new auditorium to man who served STIHL for 44 years.
Global safety leaders join forces to promote advanced helmet products.
Torcasi previously served as director of sales for Buyers' West Region.
SuperSider CN565S3, SuperFramer CN890F2 and SuperDecking CN665D all carry limited-time discounts.
Two market leaders join forces to broaden JLG's product portfolio.
Highway work is bright spot for month, rising 1.1% over November.
Matco-Norca is a leading supplier of globally sourced, code-compliant Plumbing & PVF products.
Manufacturing and infrastructure projects lead large gains during the month.
ODL is a leading supplier of decorative and clear doorglass and entry treatments.
Olosky succeeds Karen Colonias as CEO as part of a planned leadership succession.
Wisconsin team of Michael Schlund and Arron Kowalski lay 759 bricks in one hour to win title of World's Best Bricklayer.
AD membership grew to 866 companies across 14 divisions and 3 countries.
Program was offered to high school juniors and seniors interested in the deckbuilding and construction trades.
Stavish joined Mule-Hide in 2017.
New programs include externships, scholarships, career workshops and innovation lounges.
Advances and innovations in builder technology come on the heels of a $1.3M investment in the Higharc homebuilding automation platform.
150+ workplace fatalities and 22,000 injuries can be prevented.
Workforce sponsorships and training center updates are part of commitment to supporting and growing the industry.
Consistent growth of 4 to 5 percent is forecast over the next 10 years.
Minnesota Trade Office recognizes Yanmar Compact Equipment North America for investments in the state.
Event will focus on new experiences and new advanced programming.
Company plans to create hundreds of U.S. jobs in coming years.
EasyFrame automated marking system drives accuracy and efficiency for framers and pro lumberyards providing wall panels and other building components.
NEU: An ACI Center of Excellence for Carbon Neutral Concrete provides knowledge and technologies for placing carbon neutral concrete.
Modernized logo will be followed by new website in Q1.
East Bay/Silicon Valley event will now take place twice each year.
Also adds 13 Maeda spider cranes to its own fleet.
STA is New York's leading association of union subcontractors.
Dynamic outdoor booth will be hands-on, allowing contractors to experience the difference for themselves.
Events will also recognize the company's commitment to the future of tool innovation.
Saulsbury Industries uses ToolWatch to manage construction assets and improve operations.
Online scholarship application for the 2023–2024 academic year is now available.
Leading railing and platform solutions provider now owned and operated out of Minnesota.
Amid headwinds, construction professionals see opportunity in 2023.
Working with a rack supplier with integrated building permit services can fast-track the project.
White Cap teams across the country will participate in tree planting events.
Equipment Leasing & Finance Foundation also forecasts sluggish U.S. GDP growth of 0.9 Percent.
Interactive feature showcases 11 clickable areas within a home where fasteners may be used.
Calculated Industries' app is now available for iPhone users.
Company will exhibit for the first time at IBS, Jan 31 - Feb 2.
Agency now covers entire Eastern United States.
Whitepaper outlines five phenomena influencing the construction market in the next five years.
Major projects include the Fontainebleau Las Vegas and the MSG Sphere.
Long-time National Sales Manager for Wej-it Fasteners retired in 2004.
Three key sales managers step up into new roles.
Trainees learn safe, effective use of abrasives and brushes and ways to identify hazards.
Deal combines BHK's drawer components and Genesis Products' laminated panels, wood components and custom molded solutions.
Add what your consumers want.
49th edition of World of Concrete introduces innovations in new concrete materials, areas of opportunity and recognizes female business leaders in concrete.
Top new products include fence planner software, mass timber connectors and fasteners, products for asphalt and cold-formed steel contsruction and more.
Kohler joins as renewable energy provider for Undaunted Expedition.
Dean Hammel has been with Albion since 2016.
John Holman will serve Lawless Group customers in Iowa, Kansas, Minnesota, Missouri, North Dakota, and South Dakota.
Wooster is an industry leader in anti-slip nosings, stair treads, and walkway products.
However, construction fatalities declined by 2.6 percent YOY.
Updates cover plumbing, HVACR, carpentry, roofing, concrete and more.
Single?family permits slide 7.1 percent for month; completions rise 9.5 percent.
Single-family segment falls 32 percent from February.
Harrington co-founded MTA Distributors in 1980.
Rochel joins IronCraft from Continental Disc.
Incord manufactures safety netting systems for a variety of markets.
Tips for ensuring your website is ADA-compliant.
Regional facilities will expand and enhance Mule-Hide's hands-on training program.
Cortec offers tips on choosing the right anticorrosion coating for your specific needs.
Acquisition of New Jersey-based Quality Filter Testing Laboratory triples the size of IAPMO R&T Lab's water system testing capacity.
Mid-States is based in Oklahoma City.
App now features real-time video tech support for contractors on the job site.
Five reasons why good employees walk.
Offers seamless data integration between ERP systems and vending software.
Marcum Q3 Index shows the industry faces labor shortages, high materials prices and a deteriorating economic outlook.
Woodgrain manufactures moulding, millwork, windows, doors, door jambs and frames.
US Anchor's Hahn caps off a half century in the industry.
Klein joins Kano from Klein Tools.
On-site equipment can keep workflow going smoothly.
Registration is free to attend.
Colonias is to be succeeded by current Chief Operating Officer Michael Olosky.
The 5,500-square-foot coal commercialization facility was recognized in the small division category for its innovation in economic development.
Five U.S. building exterior professionals will be honored with national recognition and $1,000 in tools.
Wesley Skinner joins IronCraft from Creative Foam.
New Chandler DC serves growing regional industries.
Plant manufactures STIHL chain saw guide bars.
Average sales price runs $544,000.
Professional Qualifications Standard for Rainwater Catchment Systems Personnel.
Starts rise 8 percent for month to an adjusted annual rate of $1.12 trillion.
Data from e-ticketing, cycle counts, tonnage, and more automatically flows from FleetWatcher's Materials Management Solution (MMS) into the appropriate areas within the software programs.
Cortex for Decking hidden fastener system is recognized for product innovation.
Single-family permits dip 3.6 percent for month; starts fall 6.1 percent.
Julie Snelbaker brings Wright nearly a decade of customer service management expertise.
ESAB Renegade VOLT ES 200i is powered by four DEWALT FLEXVOLT batteries; also uses 115/230V primary power.
ARA report predicts single digit revenue increases over the next four years to $63.4 billion in 2026.
PS-41 School in the Bronx Chooses Cintec for anchoring into Terra-Cotta Clay.
Viega MegaPress systems reach sales milestone in just 10 years on the market.
Ponte Vedra Beach, Florida-based Malone Steel brings NSCS to 11 stores.
Company sells $38.9 billion, an increase of $2.1 billion over Q3 2021.
Construction Equipment names Mi-T-M inverter generators with carbon monoxide (CO) detectors among the Top 100 New Products of 2022.
Hinowa will become part of the Oshkosh Access Equipment segment.
Prep yard machines for hibernation and get that snowblower ready to work.
Glen Ferguson steps into executive role to lead planning and analysis of strategic financial initiatives.
Elevated interest rates, high building material costs and declining affordability conditions push more buyers to the sidelines.
Rosario Palmieri joins BHMA from the White House Office of Management and Budget and NAM.
More than 1,000 employees in North America, the Pacific Rim and Vietnam participated in various activities benefiting individuals and families worldwide.
Charles Comstock previously managed Grobet's Cheyenne, Wyoming plant.
Receives Congressional Proclamation on 75th Anniversary.
Companies that exhibit at World of Concrete 2023 are eligible to enter.
Improvement is attributed to a 32.9 percent drop in reported illnesses.
New 75,000-square-foot facility is located in Columbus, Ohio.
Holland is a recognized expert in deck construction and is named on four patents.
First in-person International Conference since 2019 draws nearly 250 rental operators.
Michael Kucharski joins IronCraft from Fecon.
Canadian builders and contractors can now install the complete TYPAR Weather Protection System.
This must-have little present packs big-time pleasure.
NEF6LM BreakFree Power Flaring Tool takes top honors in Tools & Instruments category.
Jerrel Flatt joins Lawless from his prior role as Senior Director of Sales for Apex Tool Group.
Quality Mill Supply has five locations in Indiana.
However, year-to-date trend is 11.4 percent over 2021.
U.S. Marines and volunteers will be conducting over 830 local toy collection and distribution campaigns in all 50 states, DC, Puerto Rico, Guam, and U.S. Virgin Islands.
Vincent joins JLG from Arete, a global cyber risk company.
Battery-and-tool deals are available through December 31.
PINK Next Gen Fiberglas enables up to 23% faster installation compared to previous products.
Michael Knight will succeed Steve Endries, who will become company chairman and head of Strategic Partnerships.
Lowe serves customers out of 13 locations across Georgia and South Carolina.
Average selling price is $517,700.
Single-family home sales in September fell 10.9%.
Gelinas will lead training for OMG's FastenMaster and Roofing Products divisions.
Hirsch joins STIHL from Bosch.
Certification recognizes effective quality management systems and customer-focused processes.
New Eden Prairie facility has 105,000 square feet of space and adds classrooms, a regional fulfillment center, assembly and fabrication shops and more.
Bridgette will lead Streamlight's Eastern U.S. Industrial/Fire sales team.
Company is now the largest watering hose manufacturer and leading maker of extension cords in North America.
New trustees also join APA board.
Company continues to grow its independent service operations across the nation.
Pare joins Everwin from Stanley Black and Decker.
AD Electrical divisions in the U.S., Canada and Mexico expect to increase sales by 33 percent.
Grunewald becomes one of four building envelope experts in the nation to hold the designation.
Permits slip 3.1 percent while starts fall 4.7 percent for month.
Henry is a certified Project Management Professional (PMP) and a Six Sigma Green Belt (SSGB).
Hurricane recovery is ongoing and help is still needed.
Fiberon manufactures composite wood-alternative decking and railing products.
New platform helps jobseekers showcase their trades experience and connect with hiring trades professionals.
Lisa Glass joins Walter from CGW Abrasives.
New location doubles the space of previous store.
Acquisition expands Rectorseal's plumbing and HVAC connector product lines.
Mike Taylor streps up from plant manager.
Valley Supply Company serves contractors in the Puget Sound area.
New cordless products line builds on Makita's 18V | 36V LXT battery system.
But record openings show firms want to add more workers.
Environmental Product Declaration (EPD) covers steel rebar used in reinforced concrete construction.
Construction Implement Depot (CID) manufactures skid steer and compact track loader attachments, compact tractor and mini-excavator attachments.
But all categories soften against July numbers.
NAHB looks at the new Census Bureau Survey of Construction.
Takes Innovation awards for Quik Drive PROHSD Wood-to-Steel Solution and Strong-Drive TF Wood-to-Steel Screws.
Cover Guard lineset covers and AC GUARD HVAC condenser protection cages are trusted and proven product lines.
Clement Wiekrykas joins Abrasive Technology from aeroengine component manufacturer E.A. Patten.
U.S. Census Bureau shows that while men still hold two-thirds of U.S. manufacturing jobs, women continue to gain ground.
Martinez manufactures high-quality titanium hammers and related products.
First episode of season three is airing now.
Anchoring into terra-cotta clay Speed Tile for New York Schools Construction Authority.
Podcast is hosted by Jennifer Wilkerson, NCCER's Vice President of Innovation and Advancement.
Acme is the new Kubota dealer for the Fargo/Moorhead region.
Combination of The Crosby Group and KITO CORPORATION to create a global provider of comprehensive lifting solutions.
Gutierrez joined NIBCO in 1986 and stepped up from senior administrative manager.
Understand job hazards to select the most applicable solutions.
PVC roofing reflects 80% of sunlight, helps keep cities cooler.
Jenny Victor joins Epicor from cyber-risk company Reciprocity.
The Association of Professional Builders Releases New Guidelines to make sure "pricing for profit" remains stable.
Average sales price runs $521,800.
Kao is a California state-licensed professional engineer.
New 105-SKU line includes manual and electric staple guns, hammer tackers, rivet tools, brad nailers and consumables.
Awards recognize the year's most innoative tools.
Mi-T-M's new inverter generator line features carbon monoxide (CO) detection and auto shutdown.
Company recognizes its top producers in sales and service.
Automatically generate accurate, balanced sales territories with unprecedented speed to save time and reduce costs.
Companies across a range of markets enhance their brand with Empire products.
Single-family starts climb 3.4 percent for month.
Instant ROI program makes solar possible for ConAg equipment without any upfront expenses.
Helps bring recognition to the building trade prior to National Tradesman Day.
Company makes list of region's top 50 for the fourth time.
Holtz Joins PIP from workwear leader VF Corporation.
New hybridized design approach can revolutionize development of future housing.
New subscription service combines SupplyPro's hardware, software and inventory management products with low-cost solutions.
Van Grootel brings INFORM 30 years of in-depth construction industry experience.
Veteran brings 10 years of sales and leadership experience to HVAC/R tools leader.
Customers increasingly prefer distributors who offer a consistent experience across all channels.
U.S. median lot price now stands at $55,000.
David Kohler is the fourth generation of Kohler family leadership since the company's inception in 1873.
Highway work is bright spot for the month, running 4.3 percent above June.
New suppliers produce trash containment and vapor barrier products.
Company offers a 75-year warranty.
First episode visits First Supply, Madison, Wisconsin.
Company has been manufacturing buckets and attachments for excavators and loaders since 1947.
Sara Herron is a recent Penn State marketing graduate.
Structa Wire designs and manufactures products for stucco for steel and wood-framed construction.
Site allows users to purchase spare parts and accessories.
New satellite technology can locate Internet of Things devices and autonomous vehicles within centimeters.
Papachristopoulos brings INDEVCO more than 20 years of experience in the plastic film extrusion and converting industries.
Mega projects led gains, but details show broad-based construction expansion.
Distributors must rethink how they lead in a post-pandemic world.
Concrete waterproofing systems leader earns NSF 61, Water Potability Certificate.
Tyler Whipple and Damon Bohn step into new roles.
Annual award is given out by SC Biz News and the SC Chamber of Commerce.
SuperSider, SuperFramer and SuperDecking tools are on sale from September 1 to October 31.
Kao also serves on the Board of Directors of Habitat for Humanity East Bay/Silicon Valley and is a former director for the Structural Engineers Association of Southern California.
Pat Kozlowski joins IronCraft from Caterpillar.
Safe to Cross campaign is outfitting crossing guards with Ironclad Hi-viz gloves.
As of December 2022, both brands will be based in Braselton, GA.
Ram Board, Surface Shields, Trimaco and Antinox are now under one roof.
Markus Limberger will joins Enerpac from Danaher.
Sphinx Tools manufactures precision micro tools and surgical cutting tools.
Delivers next-level control, clarity and actionable insights for the last mile.
With EROAD solutions, ABC has seen improvements in unidentified drive time and hours of service violations.
What are you promising? What are you delivering?
Non-toxic waterproofing systems helping buildings achieve LEED certification.
Sixth edition is offered in Contractor Reference, Consumer Reference and Digital versions.
Newman Associates is a value-added distributor of pipe hangers and supports.
The what, where, why and how behind a decline in customer service excellence.
New HQ in Mansfield, Texas allows greater office and warehouse space expansion.
Michael Millies brings a wealth of global heavy equipment key account experience.
HD hits $43.8 billion in sales for Q2 of fiscal 2022.
Award marks company's seventh time making the list since 2014.
However, completions rise 1.1 percent for month.
Rob Gray is named Director of Marketing for Curry Supply.
Industrial adhesive and asset tracking technology experts to launch innovative scannable tape products.
Sumner has been with Arrow since 2014.
New site provides quick access to product information, technical documentation, product support content and distributor locator.
New site is designed to be a comprehensive height safety resource for all.
Kristen Abbas will manage and expand AD's meeting and network ecosystem for members.
Donation to the American Red Cross will help victims recover from disastrous floods.
Erika Singleton is named association's new Workforce Development Manager.
Company adds Dana Duckworth as VP of Supply Chain Solutions.
Industry veteran Sullivan joins company from CGW Abrasives.
Jim Van Beek returns to step into new role.
Tariff drops from current 17.91 percent to 8.59 percent.
Daw joins JLG from Caterpillar.
Kits contain filters and fluids for Yanmar mini excavators, wheel loaders and tracked carriers.
When leasing or building more space is not an option, innovative alternatives can significantly increase capacity within existing facilities.
Recognition underscores company's commitment to service, dealer network.
Jaime Ramirez steps down as EVP and President, Tools & Storage.
Findings reveal continued cautious optimism with nearly 60 perent or respondents expecting more business in the future.
Lisa Solomon has been with the company since 2015.
Residential sector slides 1.6 percent for month.
Sales hit $36.1 billion.
Kris Morek is named East Midwest Regional Sales Associate; Stacey Mecca becomes Human Resources Generalist.
Don Freeman is named president of North America Professional Business; Kevin Blossom becomes president of North America Retail Business.
In the first half of 2022, 22 workers have died in trenching accidents compared to just 15 in all of 2021.
Using anything other than OEM batteries is a dangerous proposition for contractors who use power tools.
Leading hazardous material, facility maintenance and workplace safety manufacturer launches web store with easy navigation.
Average sales price dips to $456,800 from $511,400 in May.
Through the first half of 2022, the division is on pace to deliver another record year.
Company fetes employees and supporters at San Salvatore castle in Italy.
AI-powered ID scanning solution saves time, reduces data errors.
Broad-based weakness in the building sectors dragged down construction starts.
Three ways to empower employees to see themselves beyond 'just' their jobs.
Matteo Salamon becomes Vice President & Director of Sales for OMER USA; Chuck Hotze is named senior vice president.
Survey of more than 700 Builders indicates optimism amid setback on construction materials, labor shortages and pandemic implications.
On average, 1.3 million nonfatal violent crimes in the workplace occurred annually.
Building Connections will rebrand as Lawless Group Midwest.
Harris has been with the company since 2015.
Lee Johns brings deep experience in distribution channels to global market growth for brand.
I.S.K. will represent Kano products throughout Texas, Oklahoma and Louisiana.
The UB Fast 46 program recognizes the success of 46 of the fastest-growing businesses owned or led by UB alumni or former students around the world.
New mobile charging station, ratchet set and abrasives systainer set are now in stock.
Single-family starts slide 8.1 percent for month.
New facility will allow MBW to increase manufacturing capacity.
Drew Meng is named PrimeSource Building Products CEO and Robert Roche to serve as Chief Financial Officer of PrimeSource Brands.
This week: New mechanic's tools.
Aaron Freund is named Director of Sales-Industrial/Fire; Donato Sasso is appointed Director-International Business Development.
Brandon Flexsenhar joins Fecon from KION.
IAPMO study shows that more than 1.5 million Americans live without running water.
Webinar will be held on September 27, 2022.
Kuykendall joins Mule-Hide from EcoTrue Services Inc. in Dallas-Fort Worth.
NETA welcomes Leif Hoegberg to its Board of Directors and congratulates Bob Sheppard, Dan Hook and Chasen Tedder on their new officer positions.
Acquisition sets course for growth with added expertise and expansion.
Hardcopy and eBook versions are available at the IAPMO web store.
Jim Palmer steps up into role with 20 years of experience with RPI.
Company donates $10,000 to relief efforts.
Toronto-based DRM Repair Centre to provide repairs for out-of-warranty NAVAC vacuum pumps, recovery units and other tools.
Major categories trend flat for month; only residential building climbs slightly.
Merger creates a new leader in sustainable water solutions.
Trippe Supply serves the Washington, DC market.
The fully integrated offering including floor scrapers, shavers, scarifiers and floor grinders is now available.
Heflin plant modernization efforts involve increasing medium voltage product capacities.
Swedish manufacturer increases market presence for its Snickers Workwear and Solid Gear Footwear brands.
New Memphis-area HQ facility will occupy six acres.
Giveaway runs June 30 through July 15.
Competition will challenge students to "turn around" a failing company.
Sales jump 10.7 percent for month in anticipation of interest rate hikes.
Rebranding features new corporate logo.
Linder brings Fecon 16 new locations.
Raz Ghazikhanian previously worked with Shurtape Technologies, LLC and Weiler Corporation.
New video celebrates fathers and the children who follow in their career footsteps.
Sessions will cover high-performance work teams, bold selling skills, adapting to the pandemic, how to ditch the sales pitch and more.
New B2W Estimate features enhance automation and data connectivity.
Jiffy is a leading SHARP supplier in Kentucky, Ohio, and Indiana.
Burgjohann joins Everwin from Stanley Black & Decker.
Tool available on the SCA website assist projects with sustainability goals.
Tools include six different cordless framing and finish nailers.
Travis Valera joins Lawless from Los Angeles County Works and DSE Electric Inc.
Company creates Northern & Southern Divisions, with regional sales managers tapped to head up each.
Engineering team organized equipment and materials to provide hands-on learning opportunities.
Builder confidence slips for sixth straight month.
Addition includes the full line of Mini, SR, Conventional and Specialty Models.
Group honors program beneficiary Kirstie Ennis.
Group reached $14 billion in sales in 2021.
AD and Torbsa Limited, a leading building supplies buying group in Canada, have agreed to merge the two groups. The merger is expected to close July 1, 2022.
Protective Industrial Products has acquired Industrial Starter, S.p.A, headquartered Vicenza, Italy, which includes all of the Industrial Starter affiliates throughout Europe.
Simpson Strong-Tie held its second annual Trades Support program with Habitat for Humanity East Bay/Silicon Valley in California.
Altenloh, Brinck & Co. unveiled a state of the art, 12,000 square foot training center at its Bryan headquarters made possible by the company's expansion to its new packaging facility in Pioneer, Ohio.
The Evergreen Marketing Group announced that Dayton Superior is now a preferred supplier in the concrete chemicals category.
Topcon Solutions Store (TSS) has been named Partner of the Year — Americas 2022 by Autodesk Construction Solutions (ACS).
Stanley Black & Decker has named Donald Allan Jr., currently president and chief financial officer, to chief executive officer, effective July 1, 2022.
Revised guidance predicts 3.0 percent growth for company in 2022.
DSOF has over 30 years of representing quality manufacturers in Florida.
Partnership will produce STIHL zero-turn mowers for U.S. market.
Q1 sales hit $319.4 million.
Company is again recognized as Preferred Brand of the Year.
Sakrete's Dirk Tharpe shares tips for smaller projects.
Event focused on challenges to America's drinking water.
The 366-foot-tall, 17,500-seat venue will have the world's largest LED screen.
New 563,000-square-foot location is expected to create 800 jobs.
Ellis co-founded Air Systems in 1984.
Mi-T-M takes Ruby Echelon level award for excellent service to members.
Scenic Road Manufacturing recently provided Martha Stewart with wheelbarrows for a television special to be aired on ABC.
Veteran employees step into key roles.
Two new members have been elected to the APA – The Engineered Wood Association Board of Trustees.
The average sales price of a new home hits $570,300.
Emily Pritzkow most recently served as Chief of Staff to Gordon Hintz, the Democratic Leader of the Wisconsin State Assembly.
Multiwave produces advanced solutions for GPS directional and position measurement.
The company is recognized for its diligent compliance with the Water Reclamation Facility pretreatment program.
"2022 Health at Work" report reveals the attitudes and expectations about the changing world of work, employee health and COVID-19.
2022 University of Innovative Distribution reenergizes distributor attendees.
Annual conference fetes top distributor members and suppliers.
Industry leaders were key supporters of the Simpson Strong-Tie Research and Testing Laboratory at the WSU Pullman Campus.
Keffer joins STIHL from Stanley Black and Decker.

Housing starts were flat for month but still trend 14.6 percent over April 2021.
Champion brands include Mercer, Champion, Brute Platinum, RotoBrute and Proline.
Award recognizes firms that demonstrate excellence in strategic planning and execution, strong financial performance and resilient cultures.
Parties agree to pause deal.
Distribution and fulfillment expands from British Columbia to Ontario.
Widespread pullback in construction activity following a strong February.
U.S. enacts measures to address rising inflation, influencing construction market outlook.
Company wins leading European industry award.
NIKORail workstation maker adds 20,000 square feet of manufacturing space.
Manufacturing icon has shipped over 150 million tools throughout the world.
New agency of specialists only works with industrial B2B companies.
CRAFTSMAN is teaming up with TV host Cristy Lee and esteemed furniture makers Woodward Throwbacks to recognize and share stories of women makers across the country.
Pressing technology approved for use on U.S. Navy surface combatants.
Kevin Higginbotham retires and William W. Ward takes reins.
Combined organization extends geographical reach to provide unmatched onsite solutions
to construction and maintenance industry.
World firsts include integrated thermal imaging camera, thinnest rugged phone and most hygienically advanced smartphone.
Fund aims to identify and spur companies that can ehance HD's product and service offerings and elevate customer experience.
Strategic acquisition enhances product catalog and extends customer reach.
Deal expands Woodgrain's footprint to 32 distribution centers.
Three virtual sessions cover connectivity, gas detection fleet management and cyber security for gas detection IOT systems.
Jack Templin joins the Lawless Group from AD.
Work apparel innovator launches co-branded merchandise collection with construction media platform.
Grunewald will lead sales for Mule-Hide's portfolio of commercial roofing products.
Bobcat dealers will be able to look at service efficiencies, recovery rates, inventory turn, sales mix, gross profits, absorption rates, ROI, time utilization and more.
Revolutionary new website features industry-first advanced sorting, filtering and search features to speed distributor sourcing and ordering functions.
Launched in 1947, the company now employs more than 500 professionals.
Fernandez returns to AD from a stint as an SVP at Bunzl.
Average sales price hits $523,900.
Strategy includes CO2 reduction, transitioning to 100% renewable electricity and a carbon offset program.
Worldwide and here in the U.S., print books are most popluar by a wide margin.
American Contractors Supply is a leading distributor and supplier of tilt-up products based in Atlanta, Georgia.
High-quality fittings are now named Quick Fitting Brass, Quick Fitting Copper, and Quick Fitting Stainless Steel.
Matt Carey is new EVP of customer experience; Fahim Siddiqui is now EVP and chief information officer.
Amid soaring material and labor prices, subcontractors remain optimistic in 2022.
Eighty-nine dealers recognized for excellence in customer experience.
Multifamily permits and starts are bright spots, up 0.4 and 0.3 percent for month.
New location will serve as an Engineering Design and Innovation space to accommodate the company's continued investments into new technology.
Program is now available to equipment purchasers in the U.S. and Canada.
Colony Hardware Corp. and Milwaukee Tool take Tier 1 honors.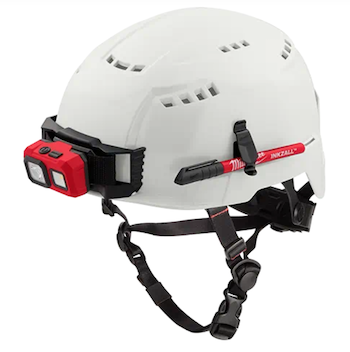 Milwaukee's Type 2 Safety Helmets deliver you better protection and more comfort. These safety helmets offer protection from top and side impacts.
These construction safety helmets are BOLT™ compatible with four BOLT™ accessory slots and two universal accessory slots that easily integrate additional personal protection equipment and accessories so you can adapt to your jobsite.
The helmets include a MILWAUKEE® BOLT™ Headlamp Mount that works with most headlamps for easy, secure attachment, and a BOLT™ Marker Clip allows for easy access to pens and markers.
This Milwaukee helmet has a comfortable padded suspension that includes an adjustable swinging ratchet for better comfort. The climbing style helmet also has a comfortably fitting five adjustable buckle chin strap for better security. An antimicrobial sweatband and helmet liner prevent odor and bacteria build up and are removable and machine washable.
Features:
Protects Side and Top Impact
Secure Accessories Simultaneously - BOLT™ Accessory Compatible
Comfortable Padded Suspension
Comfortable Fit - 5 Adjustable Buckles Chin Strap
Adjustable swinging ratchet - better comfort
Antimicrobial and moisture wicking Sweat Band and Helmet Liner
Machine washable sweat band, helmet liner and chin strap
Includes a BOLT™ Headlamp Mount that works with most headlamps
Includes a BOLT™ Marker Clip for easy access to pens and markers
ANSI/ISEA Z89.1 Type 2 Class C
Meets Energy Absorption Capacity clauses 4.2.1.2 (Front), 4.2.1.3 (Side), & 4.2.1.4 (Rear), and Retention System clauses 4.2.3 (Strength) & 4.2.4 (Effectiveness) of EN12492:2012
Made in USA With Global Materials
Limited Lifetime Warranty
UL Third-Party Tested and Certified
These safety helmets are ANSI type 2 and customizable by adding your logo.
Q1 sales hit $1.7 billion.
Leadership Connect pairs advisors and apprentices to develop the next generation of NAHB leaders.
March reading was the highest since December 1981.
Evans will replace Bob Mann, who is retiring.
Public construction spending dips 0.4 percent for month.
Certified Sales, Service and Mobile Elevating Work Platform programs teach job-specific skills for rental professionals.
Company to participate in world's largest mass timber shake table test scheduled for July 2022 at UCSD's Natural Hazards Engineering Research Infrastructure lab.
Industrial Supply Association award honors long standing-industry service and contributions.
Peters brings ASC 12 years of association membership experience.
ETANCO is a leading European construction fastener manufacturer.
Program supports Vietnamese students in construction-related industries.
Industry veteran brings 35 years of category experience to U.S. subsidiary.
Eckel will drive the company's jobsite connectivity channel strategy.
North American industry leader to open 23,000-square-foot office in October.
Company was launched in 1982 by three former NASA engineers.
Platform is purpose-built to drive revenue for distributors through improved sales and marketing.
RAPTOR composite staples, nails, and specialty fasteners and RAPTOR XF nails can be cut and sanded without damaging router bits, saw blades and sanding belts.
Acme Equipment becomes Kubota dealer for Fargo/Moorhead region.
Scenic Road Manufacturing hires Kevin McGill and promotes Tom McDermott; conjoining decades of consumer-first manufacturing experience.
Large manufacturing projects break ground, offsetting weakness elsewhere.
Company introduces new business development and RSMs.
Adds capacity at three plants and ramps up telehandler, boom lift and scissor lift production.
Standard establishes minimum requirements for qualification and certification of electrical testing technicians, including training and experience.
Key products become LeadSmart Channel Cloud for Manufacturers, Distributors and Sales Agents and LeadSmart Connect for Salesforce.com users.
Newest tools inlcude updated track saw, router, hammer drill, Bluetooth speaker, hose and clamp sets.
Novinium is a cable rejuvenation solutions provider focused on electric utilities.
Report indicates key trends in US residential home building marked by inflation, supply chain disruption and surge in demand.
Info-packed publication makes product specifying easier.
During the event, AD's Giving Back Committee also presented Cradles to Crayons with a check for $23,302.
Jason Trenn joins Structurlam, a leading manufacturer of mass timber in North America.
All-cash transaction is valued at $10.70 per share, or approximately $350 million.
Lumber tariffs and pricing currently adds nearly $19,000 to the price of a new home.
Average price hits $511,000.
GPS technology allows users to see where any piece of equipment is at any time.
New standards for residential and commercial HVAC equipment go into effect January 1, 2023.
Four models, EcoLift 50 and 70, plus 830P and 1030P, are available.
Equipment helps students learn engineering, CAD (computer aided design) and measurement for manufacturing careers.
MAX will showcase its latest products at JLC Live 2022, March 24-26.
Certification verifies that Rhino Carbon Fiber products are engineered with consistent results and perform reliably in real-world applications.
Becomes director of the company's telehandler product line.
New content supports Guardian's updated brand positioning campaign.
New service increases their domestic manufacturing capabilities of this critical hygiene product category.
Taiwo Akinyemi becomes VP of finance and Tom Overacker is named director of distribution and warehousing.
Logan Contractors Supply, Inc. of Des Moines takes top honor.
B2W Employee App complements B2W Track and provides reporting solution for individuals working independent of crews, job sites or supervisors.
King has been The Lawless Group's Warehouse and Operations Manager since 2017.
Simpson is bringing a full suite of structural steel solutions to the 2022 NASCC Steel Conference March 23–25 in Denver, Colorado.
Partnership expands the Company's distribution footprint in the Southeast U.S.
LeadSmart Technologies, a provider of cloud-based CRM, channel collaboration and business intelligence software, announced a technology partnership with NetPlus Alliance.
McCarthy joins ORS NASCO from Lawson Products.
DXP Enterprises has completed the acquisitions of Drydon Equipment Inc. and Burlingame Engineers.
The Overdrive Award is given to suppliers who excel in GM's Global Purchasing and Supply Chain priorities.
Ward Lumber has been serving northern New York customers since 1890.
Matt Gray will initially focus on Wooster's photoluminescent non-slip product lines.
The drive to attract more women to the trades is hitting some old walls.
David Gelles to become Executive Chairman; Matthew Gelles to become President & CEO; Ron Cipriano to become EVP & COO.
VoIP systems help distributors capture and retain callers for greater sales efficiency and customer satisfaction.
Growing cordless OPE system is featured in new national 360-degree media campaign.
LaCroix personifies leadership during Women in Construction Week.
Muchka joins Dorner from Tailored Label Products.
Deal expands Rectorseal's domestic grill, register and diffuser product lineup.
Enter now for a chance to win.
New site highlights what Southwire stands for, including?its focus on sustainability and diversity.
Santilli joins HD from her spot as CEO of PepsiCo Latin America: Seidman-Becker founded CLEAR.
How to select equipment for maximum safety and efficiency in utility anchoring applications.
Leading flooring installation tool supplier adds BIHUI professional tiling tools to product portfolio.
IAQ3 products are designed to meet a wide spectrum of indoor air quality demands for residential and commercial applications.
Keson VP Jude Nosek will deliver STAFDA's Associate State-of-the-Industry address at San Diego Convention.
Simpson Strong-Tie Carbophalt and Glasphalt reinforcement grids have been proven to limit water penetration and crack reflection in road surfaces.
Merger will create a leader in sustainable water solutions.
MTA joins forces with Construction Product Sales, Inc. to complete nationwide sales coverage.
Leading pipe tool and vise manufacturer fetes landmark.
Association reinstates in-person format for coming convention.
But single-family permits climb 6.8 percent for month.
Whittemore now represents Lyndex-Nikken in 8 midwestern states.
Western Global is a leading provider of portable tanks and dispensing equipment for the storage and handling of fuels, lubricants and other fluids.
Series 27000 includes three standards: Design; Installation; and Inspection, Testing and Maintenance.
2021 sales grew 14.4 percent over 2020; predicts 2022 will be comparable to 2021 results.
Named Director for Scissor Lifts, Vertical Lifts and Low-Level Access Lifts.
Vermeer MidSouth serves customers in Mississippi, Arkansas, Tennessee and Louisiana.
Karla Neupert Hockley and Tim Horsman join board.
SCA is celebrating 20 years of providing resources for using slag cement in concrete construction.
Ben Sinclair and Irfan Ahmed will spearhead company's new Toronto office.
TwinTier webinars take place every Tuesday.
Improve inventory tracking and stock levels, increase technician efficiency and enhance customer satisfaction.
New dealers are in Virginia, New York, Tennessee, Idaho, Kentucky, Colorado and British Columbia.
New construction growth edged higher in January, but homebuilder confidence fell for the first time in four months.
Belt manufacturer expands into U.S. to better serve North American distributors.
Schmidt joins Mule Hide from United States Gypsum (USG).
Watson brings IAPMO more than 30 years of plumbing industry experience.
The national median home price increased to a record $360,000 in Q4, up $40,000 from Q1 2021.
Evans expands on his role as Customer Supply Chain Services leader.
Edward "Ted" Decker becomes CEO and president.
Eric Stone has been named president of the new division.
Sales grow 99 percent for year.
Company fetes top sales and customer service associates.
Simpson expands suite of free outdoor living solutions applications.
Fein Power Tools has named William Craig president of its U.S. division.
Guide provides a quick intro to Cortec Micro-Corrosion Inhibiting Coatings Technology.
83 independents joined AD in 2021, bringing the total to 845 member companies.
Point of Rental joins Lowe's, others In providing needed services after tornadoes.
Company is hiring for flexible, full-time and part-time positions.
Jeff Morris and Alicia Kamm bring Optrel extensive business development and digital marketing experience.
New TRI-BUILT tagline is "Built to Work."
Career and Technical Education Month encourages students to explore high-wage, high-demand careers.
Residential construction in 2021 grew 23.2 percent year over year.
Partnership will expand robotic solutions to deliver improved operator safety and enhanced productivity.
Only office buildings saw a drop in proposal activity during Q4 2021.
Steve Kraft will remain with the group as director of sales, along with Justin Vailes, president.
Season 2 promotes the importance of recruiting, supporting and training the next generation of plumbers.
Hydronic Industry Alliance-Commercial offers project calculating tool for free download.
Spnsorship acknowledges drivers and crews.
Kevin West begins key new role as Mark Anderson retires.
Average sales price hits $457,300.
Jessica Yurgaitis becomes first woman to hold the position.
Single-family permits rise 2.0 percent for month.
Paul Drace joins leading mass timber manufacturer.
Sustainability efforts will engage stakeholders across the concrete value chain to measure progress toward 2050 carbon neutrality goal.
Optimism reaches highest level since 2019, 44% increase from 2021.
Acquisition expands Hampton's portable security portfolio with Military-Grade security systems.
New App expands functionality of Crosby's Clamp On Line Tensiometer (COLT).
Mark Willcox is appointed president of Walter USA; Jeff Tisdell named VP USA.
New Westbrook store has 14,250 square feet of space and a state-of- the-art showroom.
IAPMO UES is accredited by the ANSI National Accreditation Board (ANAB) as an ISO/IEC 17065 certification body to certify numerous building materials, including residential insulation.
Famed adventurer will discuss Resilience & Overcoming Obstacles.
Fecon is a leading global manufacturer of heavy- duty forestry mulching equipment and forestry accessories.
Nearly 7 million people were affected across the region.
Bob Gleason is named Regional Sales Manager for SPAX fastener line.
Hytorc will showcase its Connect app, MXT+ Hydraulic Torque Wrench, award-winning J-Washer and more solutions in Booth C4060.
Makita booth will feature more battery-powered equipment and tools for concrete contractors.
Facility will employ 250 associates, including 50 new hires.
MAX will be exhibiting newest tools and offering swag at booth W3705.
Russell Supply serves Vermont, New York and New Hampshire.
Single-family starts advance 11.3 percent for month.
Promotions focus on managing growth and customer service.
CFC Supply serves the Ogden and Salt Lake City, Utah markets.
Bob Borrhello has been Sphere 1's founding Board Chairman for 16 years.
Estrada brings Flow-Rite over 20 years of senior-level manufacturing management experience.
Automated solutions in warehousing typically have the greatest return on investment for both small and large facilities.
Michael Angelo Scalze and Kyle Jorgenson will enhance Trex presence in the Midwest region.
Motion Industries completed the purchase of Kaman Distribution Group for approximately $1.3 billion in cash, effective Jan. 3, 2022.
The Industrial Supply Association has named Brendan Breen to be its president, assuming the role effective immediately.
Habermehl joins NetPlus Alliance from Taylor Devices Inc.
Partnersip will accelerate Mechanix Wear's industrial sales growth in the United States.
Trivanovic succeeds John Kahl, who is retiring.
Diamond Tool is in Philadelphia; rebar operation is located in Nashville, Tennessee.
Vector Tools is a distributor of stone fabrication and installation tools and supplies operating throughout the Southeast.
New office will be led by international business manager Steven Wong, who moves from Hong Kong.
Follow these practices to keep your tool batteries in good working order.
The average sales price is $481,700.
Industry icon passed away on December 10, 2021.
U.S. veterans, active service members and spouses who pre-register for the benefit via The Home Depot app will receive a 10 percent discount on their purchases in stores and online.
Top new products include Strong-Wall WSWH High-Strength Wood Shearwall, the Strong-Drive SD Connector SS Screw and more.
Signs indicate continued growth in 2022 but perhaps not at the pace we saw in 2021.
MAX USA Corp. helps Santa on his way.
Absence of large projects pushes nonresidential starts lower; underlying trend remains positive.
Architectural Products Magazine names PINK a winner for as one of the most innovative construction products.
ISC has hosted the annual event since the 1990s.
Morse Watchmans is an industry-leading global supplier of intelligent key management systems.
Company donates nine pallets of PPE to Matthew 25: Ministries.
Milwaukee will be located in the Silver Lot, booth number 030800.
Program includes more than 80 SKU's that will ship no later than the next business day of order.
Addition to enhance digital services, provide utility solutions and accelerate innovation.
Dense population regions see highest rates of teardown activity.
The recently acquired Blastrac and Diamatic products will be rebranded and integrated into the global Husqvarna offering.
Snow guards work to hold back rooftop snow and allow it to melt more gradually and predictably to prevent tragedies.
New $8M Monk JCB sponsored dealership has 13,000 square feet on 5 acres.
Salt Lake City's CPS has been a Sullair distributor since 1991.
Free webinar is set for December 16.
Ram adds 45 stores to the White Cap portfolio.
Resources include online courses, videos, Simpson Strong-Tie software and more.
Jon Potter brings extensive civil engineering experience to Structurlam.
Altorfer is opening two new rental stores in Oglesby and Quincy, Ill.
GCP products include concrete and cement additives and building materials.
New manual runs 262 pages and includes color photos and illustrations.
Addition helps position Southwire as an industry leader in electrical components and lighting.
New facility will have 77,000 square feet of warehouse and will employ 30 workers initially.
This month only, the MAX SuperRoofer CN445R3 is on sale.
Outdoor Channel TV show will promote MultiVolt tool platform to viewers.
SafeWaze is a leading provider of fall protection systems.
Addition to enhance digital services, provide utility solutions and accelerate innovation.
Stocking stuffers include a work light, oscillating tool and compact vacuum.
Public construction advanced 1.8 percent for month while private sectior spending lagged 0.2 percent.
Columbus McKinnon also acquired Dorner Mfg. Corp. in April 2021.
Nonresidential construction spending remains 10.7 percent below January 2020 levels but is just 1.3 lower than it was one-year ago.