Ericson Plugs Into Breast Cancer Awareness in 2010
"Extension of Hope" initiative donates percentage of hot pink Hog Hide Cord Set sales to Susan G. Komen for the Cure.
---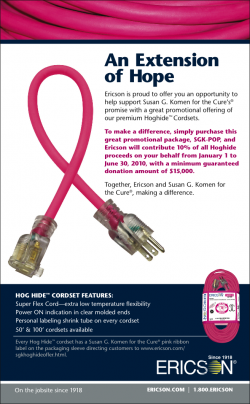 In 2010 Ericson Manufacturing Co. will make significant strides in the support of national breast cancer awareness through a new partnership with Susan G. Komen for the Cure, the world's largest breast cancer advocacy organization.
Through its new "Extension of Hope" initiative, the Willoughby, Ohio-based manufacturer of safe and innovative temporary and portable electrical power distribution products will donate 10 percent of proceeds from January 1, 2010 through June 30, 2010, for each sale of its new hot pink-colored Hog Hide Cordsets displays to help fund life-saving breast cancer research and community outreach projects.
Those who purchase the special Extension of Hope cordsets, recognizable by both their hot pink color and the distinctive Susan G. Komen for the Cure pink ribbon label on the packaging, also will receive a free Ericson/Pink Ribbon ball cap when they register their product online at www.ericson.com.
"We are fortunate to help make a difference for such a noteworthy cause that has far reaching effects on both women and men," said Jim Johnson, Ericson National Sales Manager. "We're proud to be part of finding the cures for this disease. We want to share this with our customers and all the industries in which they work, as well as our friends and families, to ensure that together, we provide a true 'extension of hope.'"
Ericson's Hog Hide Cordsets feature a Super Flex Cord design, a superior rubber technology that offers users extra-low temperature flexibility in outdoor temperatures as cold as -40°C. Available in both 50- and 100-foot lengths, Hog Hide cord features a heat-bonded plug and connector ends with extra-strong, built-in strain relief to prevent cord pull out. The RoHS-compliant, UL-listed cord feature clear-molded ends for easy inspection, as well as a lighted, "power-on" indicators in the ends. All cords also include permanent, personal identification on heat-shrink tubing to deter theft.