RIDGID Teams Up with the Cleveland Indians for the 2010 and 2011 Seasons
Emerson's RIDGID Becomes Official Tool of the Cleveland Indians.
---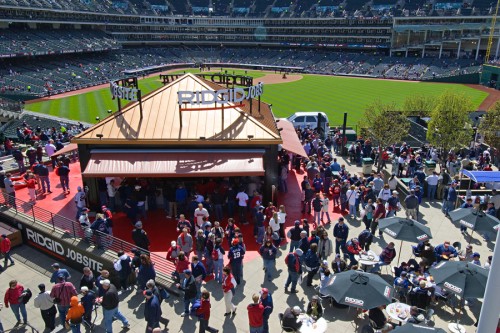 RIDGID and the Cleveland Indians are teaming up for the 2010 and 2011 seasons to make RIDGID the Official Tool of the Cleveland Indians.
"We are enthused with this partnership," said Fred Pond, president, RIDGID. "Our product development teams will have the chance to work closely with the Indians' maintenance staff to try new tools and make their operations more efficient. Our customers enjoy baseball and will have a chance to interact with the RIDGID brand in a great venue." Pond added, "We are extremely proud of our Ohio heritage and to be associated with the storied tradition of the Cleveland Indians."
In addition to putting RIDGID tools to work throughout Progressive Field, maintenance staff will attend training on RIDGIDConnect™, an online business tool for trade professionals to securely share, store and simplify jobsite information for a project via computer or smart phone, and will have the opportunity to use it in their work.
Strong bats by the Indians this season will contribute funding to the RIDGID Trade Scholarship Fund, which will increase in value for every extra base hit. At season's end, RIDGID will award the scholarships at Progressive Field.
Fans can enjoy themselves at the new RIDGID Jobsite Bar in Progressive Field's market pavilion in center field. Before certain home games, RIDGID staff will be on hand to demonstrate the latest in tool technology to fans. The sponsorship agreement also includes signage, home game contests, product showcases and information, live radio mentions, and the opportunity for a RIDGID selectee to throw the first pitch at a home game.
To keep fans informed beyond the ballpark, RIDGID will use Facebook, Twitter, YouTube and the RIDGIDForum. "RIDGID is a global brand and we want to share the experience with everyone that wishes to participate through posts, images and contests," said Wyatt Kilmartin, director, RIDGID branding.
"We are very excited to partner with a Northeast Ohio company in RIDGID that has such a rich tradition in our area and within their industry," said Cleveland Indians Sr. Vice President Sales and Marketing Vic Gregovits. "This unique partnership will make an impact not only in the community with the scholarship fund, but will enhance the Progressive Field experience for our fans with the remodeled RIDGID Jobsite Bar and the innovation RIDGID's experience will bring to the continual maintenance of our ballpark."
The Cleveland Indians Baseball Club, established in 1901 as one of the four Charter members of the American League, is an organization dedicated to building and sustaining a championship caliber team in a culture of excellence. The Indians organization has provided superior customer service and entertainment to over 41 million fans at Progressive Field since the gates opened in 1994.
RIDGID, a leading manufacturer of hand and power tools, markets its products in more than 140 countries. The company's broad offering of more than 300 types of tools, most recently RIDGIDConnect, an online business tool, serve the rental, plumbing, HVAC/R, utility, industrial, electrical, petroleum, institutional, commercial and hardware markets. RIDGID is part of Emerson Professional Tools, a business of Emerson, which brings technology and engineering together to design and produce some of the highest-quality tools and equipment in the world. From wet/dry vacs to the industry's best-selling pipe diagnostic system, key brands include RIDGID, KNAACK, PROTEAM and WEATHER GUARD.