Senco launches re-designed Web site
Features updated content and easier access to product, fastener and project information.
---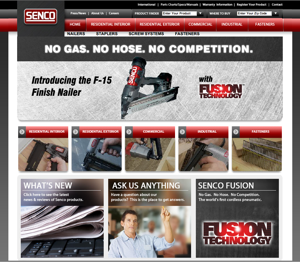 Senco announces its newly redesigned Web site at www.senco.com which includes easier searching, tol profiles, pro user tips, an online help desk, a dedicated Fusion tool section and a distributor locator.
IMPROVED SEARCH LOGIC
Project zone: residential interior, residential exterior, commercial,
industrial
Project application within a zone: i.e. Res. Int. is broken out by
finish/trim, flooring, cabinets, flooring, drywall, doors/windows
Product line: nailers, staplers, screw systems, fasteners and compressors
Product name or Model #
The Web site filters and highlights only those SENCO tools suited for a particular job.
HELPFUL TOOLS
Individual tool profiles containing a product image, overview, specs, manual and parts guide conveniently located on one page.
"Pro Tips" at the bottom of each tool profile offer ready answers to frequently asked questions about a tool and its use.
OTHER UPDATES
A dedicated Fusion technology demo section
Online help desk
Distributor locator
Direct links to SENCO's Facebook, YouTube and Twitter pages
Check it out at www.senco.com