PFERD and Advance Brush Announce 2011 Tool Manual
Manual features over 7,500 metalworking solutions.
---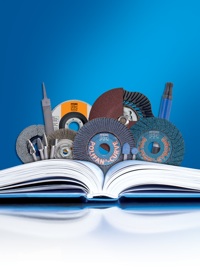 The new 2011 PFERD and Advance Brush Tool Manual is the most complete guide to metalworking solutions ever compiled. In fact, as PFERD points out, "Our most important tool is made out of paper," because they see this new 468-page reference as far more than just a catalog but as a valuable resource. It contains a wealth of technical information that explains how the relationships between material, drives and the tools are so critical to more productivity in metal finishing applications.
It answers all questions concerning the selection of the optimum tool or combination of tools as they pertain to specific applications involving the power drive, material and results desired. It begins with an easy-to-follow "Quick Product Selection Guide" and continues with a "Summary of Applications and Their Solutions". There is a section devoted to "Materials and Their Machining Characteristics" which includes recommendations on how to use which PFERD tools with different materials. Another section deals with "Power Tool Types and Their Benefits" which covers the important subjects of productivity, ergonomics and safety.
It also offers further on-site assistance from the reliable PFERD support team of technical experts who are available to provide efficient solutions required at special facilities or for custom applications.
There are seven product category sections including Files, Tungsten Carbide Burs and Bi-Metal Hole Saws, Mounted Points, Coated and Non-Woven Abrasives, Grinding and Cut-Off Wheels, Power and Maintenance Brushes and Power Tools.
For more information on Tool Manual contents or to obtain a free copy, email solutions@pferdusa.com or call 1-800-342-9015. For instant information, go to www.pferdusa.com.