Weiler Updates Construction Market Catalog
Includes Vortec Pro abrasives and Green Works maintenance products.
---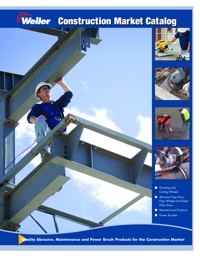 Weiler Corporation's Construction Market Catalog has recently been updated to include an expanded line of Vortec Pro bonded abrasives and their new Green Works eco-friendly maintenance products.
The general purpose bonded abrasives line now includes 12" and 14" Large Type 1 cut-off wheels in aluminum oxide and silicon carbide grains for general purpose cutting on metal and concrete applications. Green Works maintenance products are made from recycled or sustainable raw materials. The line includes floor sweeps, street brooms, counter dusters, scrub brushes and handles.
The catalog features products specifically designed for the construction market. As an industry leader and global manufacturer of surface conditioning solutions, Weiler is dedicated to providing world-class service and value-added products to the construction industry. Whether cutting, grinding, cleaning or finishing, operators worldwide know they can trust the Weiler name for high quality and dependable products - products designed to get the job done safely and efficiently.
Weiler's Industrial Grade product is performance-engineered for maximum product life, superior quality and durability. These products are ideal for heavy production environments and provide the lowest cost-per-finished piece.
The Weiler Vortec Pro® line is specifically designed for the professional/contractor. This comprehensive offering of abrasives, maintenance products and power brushes provides a reliable, general purpose product offering at a competitive price. Don't miss the Vortec Pro full line of Type 1 and Type 27 cutting and grinding wheels and abrasive flap discs.
Also included in the catalog are product selection guides by tool usage, many product and application photos, and in-depth technical information - plus the product charts are color-coded for fast, easy selection.
For a copy of the catalog or additional information on Weiler products, contact: Weiler Corporation, One Weiler Drive, Cresco, Pennsylvania 18326-0149 • Toll free (800) 835-9999 • FAX: 570-595-2002.